VS Hospitals and Karkinos Healthcare join hands in fight against breast cancer
Chennai's iconic Ripon Building turns pink for a day to symbolize solidarity in the fight against breast cancer
Launch of Exclusive Comprehensive Cancer Care Help Line Number
Early detection of cancer cases and timely intervention and treatment
Chennai, October 31, 2021: VS Hospitals, a leading and trusted healthcare enterprise in the state of Tamil Nadu, joined hands with Karkinos Healthcare, an emerging healthcare technology platform, to strengthen the fight against breast cancer.
This coalition will focus on efforts to help early detection of cancer cases and timely intervention and treatment.
An exclusive comprehensive cancer help line number +91 9021 123 000 was launched by the Honorable Minister of Health Education and Family Welfare Thiru Ma Subramanian in the presence of Thiru P K Sekar Babu, Minister of Hindu Religious and Charitable Endowments. Also present were Thiru Gagandeep Singh Bedu, IAS, Commissioner – Greater Chennai Corporation, Thiru Dayanidhi Maran, Member of Parliament, Thiru I Paranthamen MLA – Egmore, Thiru JJ Ebenezer, MLA RK Nagar.
As part of this tie-up called 'Light it Pink' and to mark the Breast Cancer Awareness Month of October, Ripon Building, the iconic structure of Chennai Corporation, was lit up in pink on 31stOctober 2021.
Speaking at the event, Minister Ma. Subramanian elaborated on the magnitude of the disease, "Cancer is the leading cause of deaths accounting for more than 10 million deaths in the year 2020. Of this Breast cancer accounts for 685 000 deaths globally. Indian statistics are equally scary. One woman gets diagnosed with breast cancer every 4 minutes in India, and one woman dies of breast cancer every 13 minutes, making it the most prevalent cancer among Indian women."
Commenting on the initiative, Prof Dr. S Subramanian, Chairman & Managing Director, VS Hospitals said, "Breast Cancer is the most diagnosed cancers in India and is also the most prevalent cancer among women. However, there is a lot to be desired in terms of treatment outcome in our country, since most of the cases are detected at a very late stage of the disease, and the chances of survival reduce considerably. Early detection and treatment are one of the most efficient ways of addressing this issue. The social awareness about breast cancer is very less in India, and among those who are aware, there's an undue hesitation to get immediate medical attention. We teamed up with Karkinos to create awareness as well as urge people to seek medical attention as and when needed."
Commenting on the association, Suresh Venkataramani, Co-Founder and CBO at Karkinos Healthcare Pvt. Ltd. said, "We are privileged to have this tie-up with VS Hospitals with a specific focus on breast cancer. VS Hospitals, under the leadership of Prof. Dr. S Subramanian, has been offering advanced treatment options for breast cancer using cutting edge technologies and unique therapy options. Through this association, we are committed to leverage our inherent technology platform at Karkinos to offer the expertise and care of VS Hospitals much beyond the state of Tamil Nadu."
About VS Hospitals
With about 50 years of excellence in health care, VS Hospitals is one of the leading providers of affordable and advanced cancer care. As leading experts in Cancer Care in this part of the country we have the responsibility to continuously spread awareness on the need for early detection and conduct screening drives for the same.
October being Breast cancer awareness month, VS Hospitals has decided to focus on breast cancer screening. Often times women do not come forward for conventional breast cancer screening because of fear and inhibition. Hence we have introduced Braster –Pro, a painless, safe thermal screening method that is effective and efficient based on revolutionary technology from Poland. Considering that working women postpone their screening because of lack of time, we have endeavored to conduct free screening camps right at the premises of the corporate to facilitate a smooth, seamless experience for the women. For more information, visit www.vshospitals.com
About Karkinos Healthcare Pvt. Ltd.
Karkinos Healthcare is a technology driven oncology focused managed health care platform for early detection and diagnosis of common cancers. The company espouses the use of a distributed cancer care network working with multiple healthcare institutions and professionals in the ecosystem with a view to get cancer care closer to the persons' home by decoupling the delivery from the knowledge systems of care. For more information, visit https://www.karkinos.in/about-us/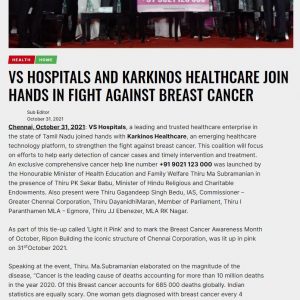 Online Coverage:
The Hindu: bit.ly/3jQwufJ
Express News: bit.ly/3EytAo1
Face News: bit.ly/3BrPask
Chennai Glitz: bit.ly/3msqmw1


Chennai Updates: bit.ly/3EBVKye
Chennai Views: bit.ly/3jUg9Xu