The Power of Cancer Risk Assessment and Community Screening – A Jharkhand experience
By Dr. Rewati Raman Rahul, Manager, Early Detection and Business Development, Karkinos Healthcare, Jharkhand  & Hemlata Mahendra Tiwari, Programme Manager, West Zone, Early Detection, Karkinos Healthcare
Dhanbad, in the state of Jharkhand, is renowned for being one of the most densely populated districts. Its prominent feature lies in its abundant coal reserves, earning it the title – "The Coal Capital of India." However, despite the presence of these valuable natural resources, the economic conditions of the indigenous and tribal people are far from developed, and their access to healthcare services is very limited.
To bring healthcare closer to the people of Jharkhand, Collectives For Integrated Livelihood Initiatives (CInI) is actively engaging in improving the quality of life for the tribal population. Local women are leading the farmer-producer companies initiated by CInI. 
Joining their efforts, in 2022, Karkinos Healthcare and CInI collaborated to extend cancer care services, including screening and treatment, to the members of the Farmer Producer Companies (FPCs) in seven blocks within 6 districts of Jharkhand namely Khunti, Dhanbad, Hazaribagh, Dumka, Deoghar, and East Singhbhum.
All members of these FPCs are tribal women and their main source of income is through forest-based activities or through farming.
The joint programme aimed to provide comprehensive cancer screening, diagnostics, and treatment options for the FPC members.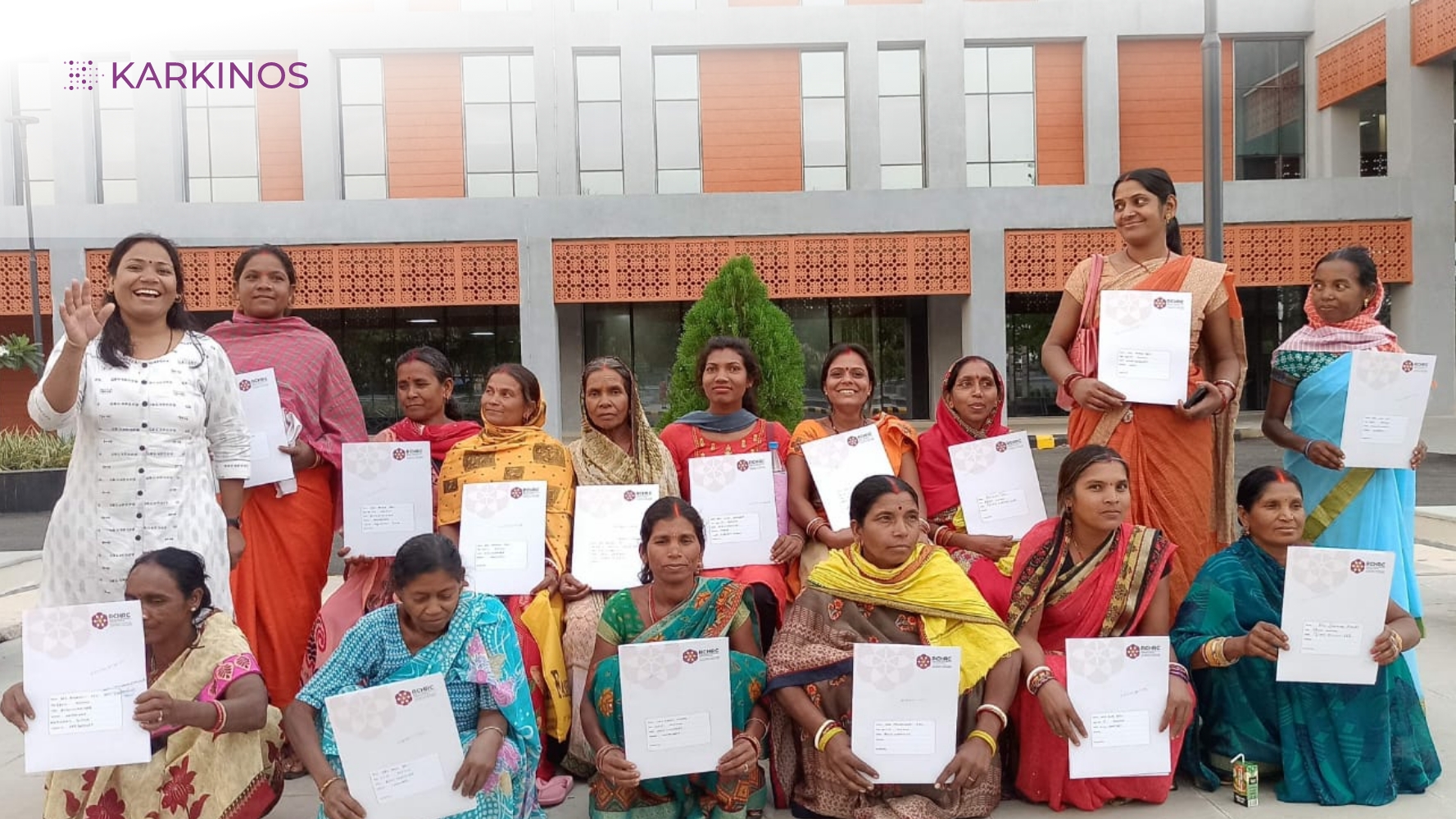 Tech-led cancer screening at the community level
Tobacco consumption among women in tribal areas is one of the main reasons for conducting cancer screening programs in these communities. It is very common for tribal women to consume khaini (a form of smokeless tobacco). Women usually consume tobacco under the pretext of alleviating dental pain and while a few others have a perception that tobacco acts as an appetite suppressant, allowing them to work longer hours in the fields without eating. 
In March 2022, Karkinos, in partnership with CInI, created a project to overcome the multi-level gap in cancer care's detection and treatment mechanisms. The team formed a five-step paradigm approach that created a complete care continuum for the participants, starting with knowledge building and ending with treatment.
The crucial step was addressing misconceptions and dispelling falsehoods regarding the illness, which was then followed by providing free insurance to all FPC members. This helped the community members recognize the problem and appreciate the benefits of avoiding the cost of the diagnosis in case of a late diagnosis. 
The cancer screening program was therefore created to incorporate awareness and to use the program to explain the benefits of group insurance products, ensuring that women felt reassured about the coverage of treatment costs if necessary. This was done in recognition of these misconceptions and their addiction to tobacco.
The primary objective of the awareness sessions was to educate women about the early signs and symptoms of cancer, as well as to encourage the adoption of fundamental hygiene practices. Through dispelling myths and delivering essential information, the program intended to empower women and enable them to make well-informed choices regarding their health and, more so, make them abstain from tobacco consumption. 
In the most recent camp held in Palajori-Dumka, 78 HPV screenings were completed in a single day. In comparison to last April, when it was difficult to persuade even 10 women to attend camp, the number is a big relief for the medical and field crews. When they heard the word cancer, women used to flee. The "women's health and wellness programme" has gone through several stages of counseling and training to get to the point where it is now, serving thousands of women throughout Jharkhand's six districts.
Doorstep screening camps today are encouraging women to screen themselves. Oral, breast, cervical, colorectal, and lung are the most common forms of cancer found in the Indian population. Breast cancer and cervical cancer are killing close to 60,078 women every year as per the National Library of Medicine report. These 5 types were covered in all the screening programmes.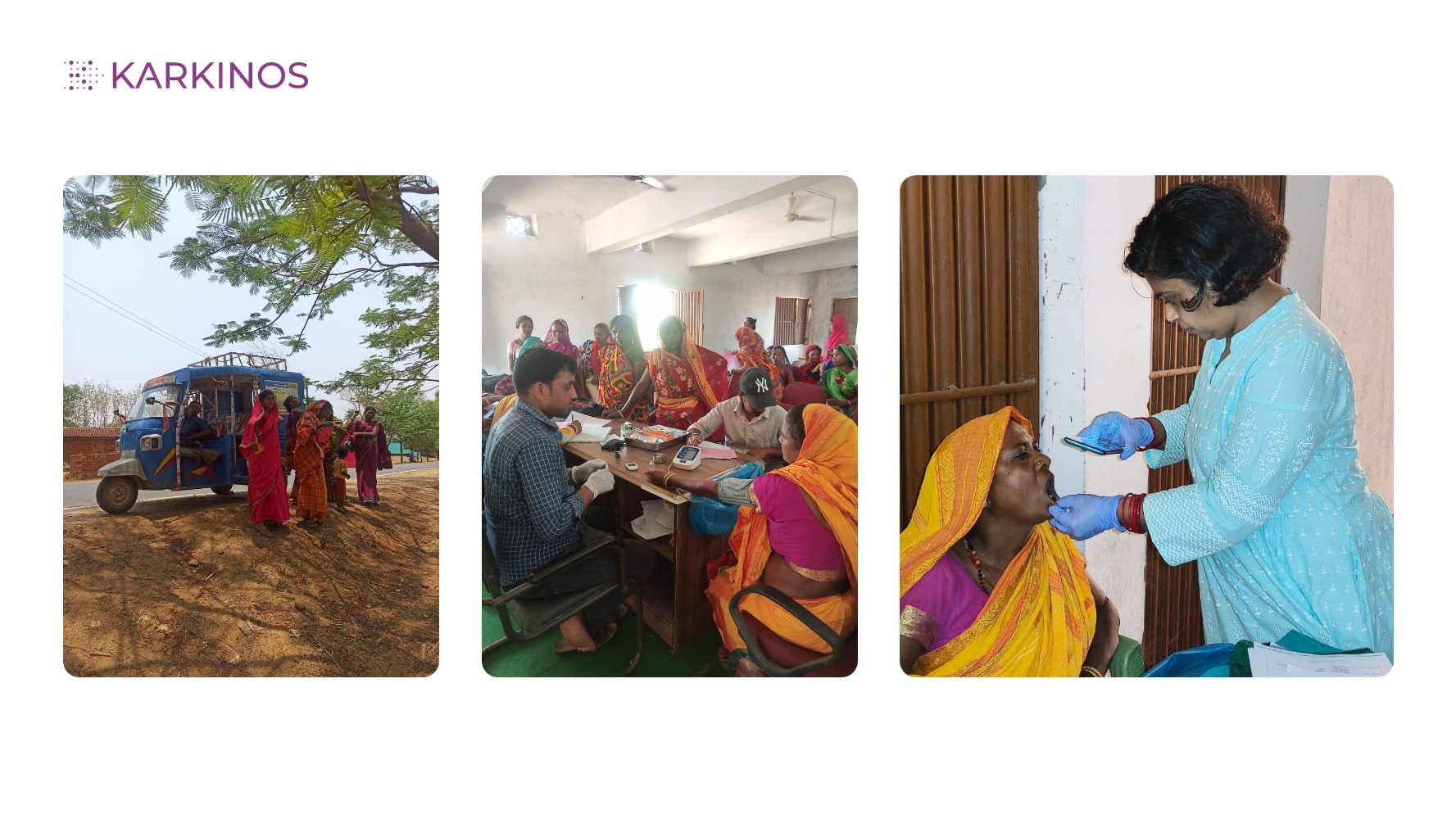 It becomes important here to highlight an actual instance from this program that demonstrated the impact of cancer screening and awareness campaigns. A 34-year-old UNFPCL member, a mother to two children, was living a happy life with her family. But hell broke loose one day when she consulted with a physician after suffering a minor leg injury.
While she was consulting for a leg injury, the doctor could see a throat swelling. When further enquired, she reported that she had been dealing with throat pain and swelling for a few days. The doctor gave the lady immediate advice to undergo additional diagnostic tests after realizing how urgent the situation was. These tests revealed that the woman had early-stage throat cancer.
After the woman shared her throat pain and swelling with the doctor, her husband was filled with worry and immediately reached out to UNFPCL for assistance. They were aware that there was a scheduled screening camp planned in the FPC in the upcoming days. 
As a member of the FPC, she had the advantage of insurance coverage. The teams from Karkinos and CInI swiftly arranged an online consultation where doctors recommended that she undergo surgery. With the support of the Karkinos teams, the process was expedited, and she received appropriate medical guidance on her treatment.
Being a part of the MNSKPCL FPC, she was enrolled for cancer insurance coverage amounting to five lakhs for a duration of one year. This insurance facility was provided free of charge for women FPC members. Following the training, a trained village volunteer conducted a risk assessment on her and on other FPC members using Karkinos' app-based questionnaire.
The risk assessment revealed that she had an elevated risk of breast cancer. She underwent screening in the camps organized by Karkinos and CInI where she was suspected of breast cancer. Karkinos team advised her to undergo a mammography recommendation at the screening camp to confirm the risk. While the test itself was free of charge, the woman felt apprehensive about the next steps if the test were to come back positive. The program's village volunteer, Mrs. Bibyani Bhengra, provided counseling and motivated her and her husband to undergo the tests. Guided by the command centre team of Karkinos she went to a nearby district hospital in Ranchi, got herself tested, and fortunately, the result came back negative.
Throughout this journey, she gained a better understanding of cancer, common symptoms, the  management, as well as self-diagnostic methods. She is now fully aware of health and sanitation practices and diligently follows them. The entire process has equipped her with knowledge and experience.
Today, this MNSKPCL member has become one of the leaders who actively encourages other women to undergo cancer risk assessments and urges women in her groups and community to participate in screening programmes. Her efforts are instrumental in breaking the taboos surrounding cancer within the implementation villages.
Impact stories like this prove how technology has progressed to help mankind and how even in remote areas it serves useful, especially in saving lives. Navigating the patient via the DCCN  and command centre is justifying the mission of Karkinos Healthcare in taking cancer care closer to the citizens and consequently helping in bringing down the cancer incidence rates. 
About Dr. Rewati Raman Rahul
Born and brought up in Gaya, Bihar, Dr Rahul is a public
health professional with three-and-a-half-years of  experience in health programme designing, planning and implementation. He has completed his Master's in Public Health (MPH), specialising in Health Policy, Economics, and Finance from Tata Institute of Social Sciences, Mumbai. He completed his graduation in Dentistry (BDS) from Manipal University.
Dr. Rahul has a strong academic foundation and a deep understanding
of the health systems.  His work has mostly been in the field of non-communicable diseases and more specifically in the field of cancer care working within the public health space. His working experience has been unique as he has had the opportunity to work at the district, state, and national level in a very short span of time.
During that period he had the opportunity to undertake health system strengthening for cancer control programmes. He was responsible for designing, implementation, and execution of Palliative care vertical of the Cancer programme under Tata Trusts in Assam.
Dr. Rahul is currently in charge of overseeing the public health project at Karkinos Healthcare, which includes cancer screening, diagnosis, and treatment, in Jharkhand.
About Hemlata Mahendra Tiwari
Hemlata stands as a social entrepreneur with a well-demonstrated history of successfully managing her own organization dedicated to supporting street musicians. Her zeal for instigating change and fostering a more equitable society is evident in her endeavors. Prior to joining Karkinos, Hemlata contributed her expertise to DVET (Government of Maharashtra) and SDIT (Government of Haryana). Her impact extends to the realm of public speaking, having delivered a TED Talk, and she has been recognized for her dedication to social work with accolades from the Maharashtra Government as a young social worker.
Furthermore, Hemlata's commitment to the well-being of street artisans earned her the esteemed Zee Ananya Sanman Award in 2018, presented by Zee Media Group. Currently, Hemlata plays a pivotal role as a program manager within Karkinos, contributing her skills and dedication to the Jharkhand program.