Addressing inequities in cancer prevention services for women prisoners in Madhya Pradesh
By Kausar Kidwai, Assistant Vice President, Women Wellness, Karkinos Healthcare
Women in prison – are they getting adequate medical attention as they are entitled to? Well, it is noted that a newfound awareness and heightened attention to women's health in prisons is emerging in India. 
Prison health, we know, is also an integral part of public health as they continue to be a part of the society in a different way. When they enter the prison, they present themselves with histories of violence, physical, or sexual abuse. They, mostly, have unhealthy lifestyles, mental health issues,  addictions such as alcoholism, smoking, and drug use, which contribute to poor general health, predisposing them to a number of non-communicable diseases (NCDs). Also, communicable diseases, such as HIV and TB, are prevalent in prison inmates along with many other contagious diseases due to the rising prison population and overcrowding.
Further, healthcare in women prisons have been receiving very little attention as the female prisoners are of a smaller percentage in comparison with their male counterparts. And in lesser developed parts of the country, correctional institutions hardly have adequate healthcare resources or facilities to provide to the women prisoners.
The importance of women-related cancer screening in prisons
The National Human Resources Commission (NHRC) recommends regular screenings for jail inmates and WHO has recommended all individuals to be screened at the time of arrival (including for signs of mental health) along with a major health assessment within the first week. Additionally, emphasis is being laid on capturing longitudinal data, as these are essential to understanding the continuity of care. 
As women in prison face specific risk factors and vulnerabilities related to their health, there could be a higher prevalence of certain high risk-based cancers predisposed by behaviours, situations, or habits. By implementing screening programmes, healthcare providers can address these risk factors and provide appropriate interventions, education, and support and significantly improve their quality of life, while during their sentence tenure and even after their return to their communities. The health and well-being of incarcerated women is also crucial for their rehabilitation and successful reintegration into the society.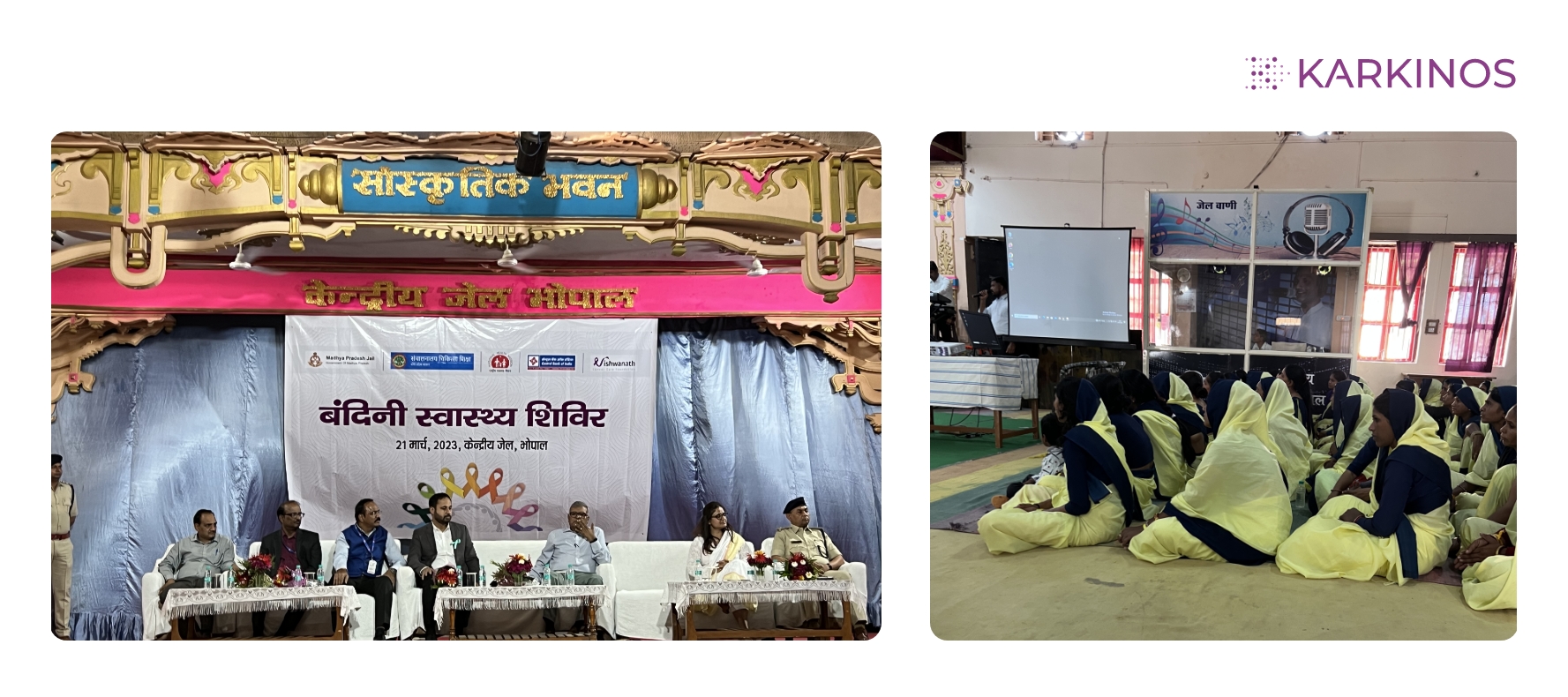 Vishwanath Cancer Care Foundation (VCCF) and Karkinos Healthcare spearheading cancer screening initiatives in prisons
Life of a woman behind the bars is quite tough to comprehend. There exists a world within these walls governed by the rules and laws of the state. Traditionally, women lead protected lives, however, when they come in conflict with law and face imprisonment, their families abandon them. While reformation is one of the objectives of prisons and the correctional services departments, this requires creating a miniature world within. But these inmates suffer isolation, which brings guilt, depression, and they develop a sense of neglect on their own physical and mental wellbeing.
In an attempt to address this marginalised section of the society, the programme – organised in an interdisciplinary manner involving private and public institutions' collaboration – intended to impact approx. 500+ prisoners at prison cells across the state of Madhya Pradesh. Through this joint effort the enablers envisioned a commitment to adhere to human rights principles, and constitutional values; a commitment to recognise and mitigate the public health impacts of incarceration.
Promoting cancer prevention among women prisoners in Madhya Pradesh was one of the pioneering cancer screening programmes that Vishwanath Cancer Care Foundation (VCCF) and Karkinos Healthcare had initiated upon. The programme involved implementing a comprehensive approach that focused on education, awareness, and providing the inmates access to state-of-the-art cancer screening tools.
The Inter-Departmental Convergence (IDC), therefore, played a key role in this programme. The Department of Prisons was committed to conduct these screenings and convergence was sought from NHM and the Medical Education Department of the state. This initiative was supported by VCCF in partnership with Central Bank of India's CSR arm, Karkinos Healthcare, and other allied partners were involved in screening and treating the women.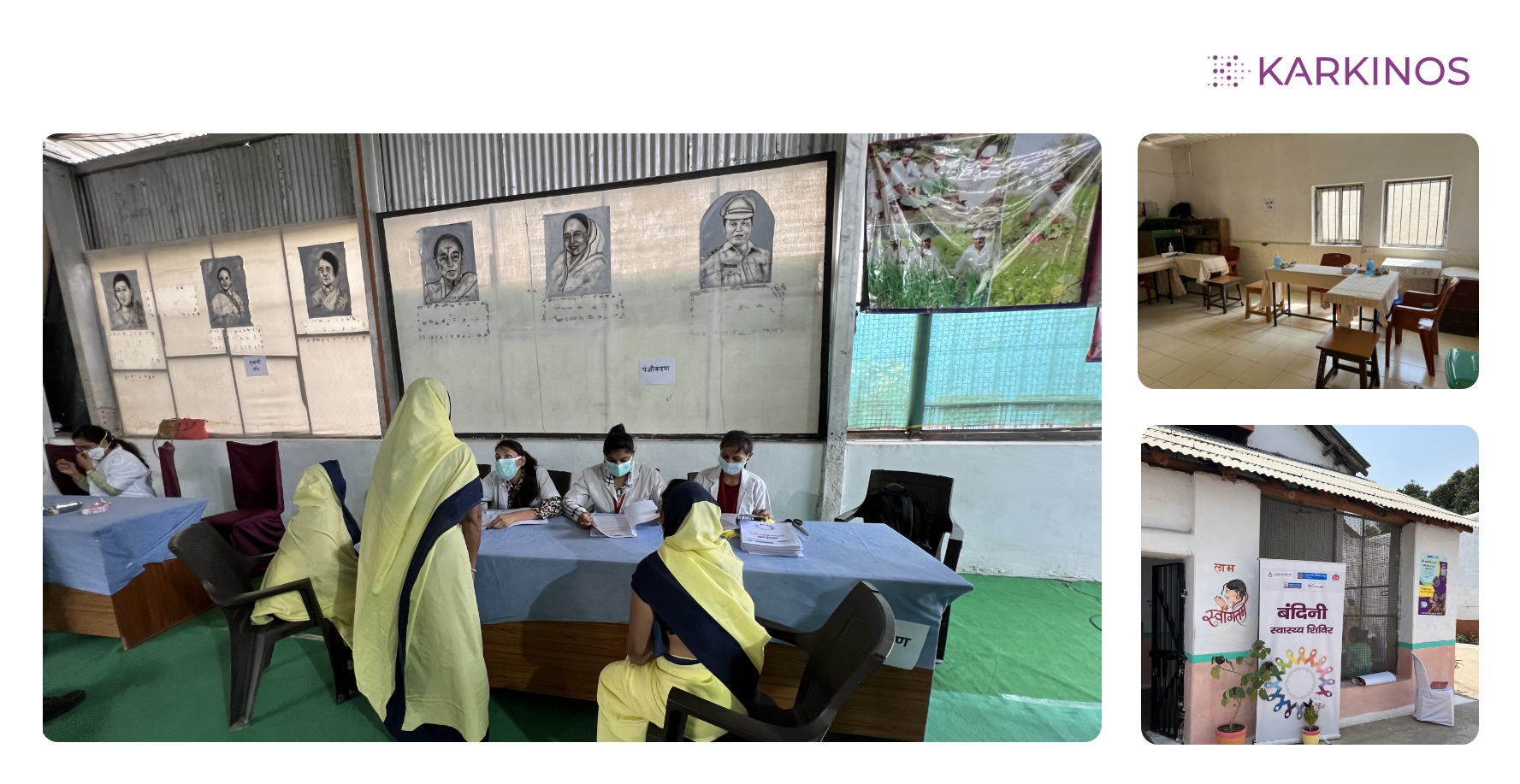 Stepping into a complex environment like a prison and deploying cancer screening activities was no ordinary feat. The team toiled to bring the multiple entities together for a successful initiative of this kind.
Evidence-based reports and success stories on community cancer screening programmes that are strongly powered by Karkinos' robust digital oncology platform were put to use and WHO guidelines were followed for cancer screening. Karkinos' Digital Risk Assessment Questionnaire (DRAQ) based on sociodemographic, personal, reproductive, and clinical history focusing on six cancers was used to conduct the first level of screening leveraging technology and segregating the population for the next level. As said, organizing such a screening programme was not easy. But the operations team at Karkinos was steadfast in getting appropriate approvals to launch this programme.
The Department of Prisons and Correctional Services gave us an approval on the cancer screening programme and we started working on designing the operational strategy to execute it in a cost-effective as well as with a good outcome-oriented approach. The Director General of the Prisons and his teams extended their support in executing this programme on ground. The prison staff ensured all incarcerated had received the check-ups and were provided the much-needed care.
We witnessed incredible ownership by the state health department and the Deputy Director of Maternal Health and Deputy Director of NCD along with the Jail Superintendent, who chose to personally attend the awareness sessions and spoke with the inmates regarding the importance and need for screening. They were constantly committed to make all necessary arrangements and take steps in the right direction to ensure that this programme was accomplished successfully.
Due to the collaborations facilitated by the IDC staff, the district hospital and medical college were selected to execute the program. These institutions actively participated in an awareness session held on the same day the screening camp was initiated. Moreover, they provided continuous encouragement to the inmates throughout the day and addressed any concerns they had.
Integration of Technology, Healthcare and IDC – The Key to Successful Programme Delivery
IDC plays a crucial role in the success of programmes by fostering collaboration and synergy between different government departments or agencies. Here are some key ways interdepartmental convergence contributes to a programme's success:
Holistic approach: IDC ensured that all relevant departments worked together towards a common goal. This enabled a holistic approach to problem-solving, where each department contributed its expertise and resources, leading to comprehensive solutions.
Resource optimization: Collaboration between departments allowed for better resource allocation and optimization. By pooling resources and avoiding duplication of efforts, programmes achieved more with fewer resources, making them more efficient and cost-effective.
Enhanced expertise: Different departments brought unique knowledge and skills to the table. IDC enabled the sharing of expertise, leading to a deeper understanding of the challenges at hand and the development of more effective strategies.
Improved coordination: Effective coordination between departments ensured that activities were well-organised and synchronised. This minimised conflicts, delays, and misunderstandings, leading to smoother implementation and better outcomes.
Increased accountability: When multiple departments were involved, it became easier to monitor and evaluate programme progress and outcomes. This accountability promotes transparency and ensures that each department remains committed to its responsibilities.
Policy alignment: IDC helped align policies and regulations across different sectors especially with regard to effective patient navigation and referral management. This reduces policy inconsistencies and enhances the programme's chances of success by creating a conducive environment for its implementation.
Stakeholder engagement: Collaboration between departments often involves engaging various stakeholders, including non-governmental organizations, private sectors, and community groups. These diverse perspectives and involvement strengthened the program's impact and sustainability.
Flexibility and adaptability: Programmes often need to adapt to changing circumstances or new challenges. Interdepartmental convergence facilitated flexibility in decision-making and response, allowing programmes to remain relevant and effective over time.
Overall, interdepartmental convergence promoted a more comprehensive, efficient, and sustainable approach to programme implementation, leading to increased chances of success in achieving the intended outcomes. Globally, this initiative will be considered an exemplary model of integration of technology and healthcare supported by State Government and corporate houses. In line with UN's SDGs commitment and showcasing India's effort on a global level this effort will aid in re-imagining healthcare at prisons in India and establish a model to sculpt a pathway for reduction of premature mortality from non-communicable diseases, especially cancer, through prevention and treatment by one third, as envisioned.
ABOUT KAUSAR KIDWAI
Kausar Kidwai is Assistant Vice President, Women Wellness, Karkinos Healthcare. The company aims to significantly enhance access to cancer care services by creating and enabling access to a technology-enabled data driven platform. In a career spanning 15+ years in India and abroad, she has largely addressed the inequities in cancer prevention services for women in India. Whether it was operationalizing preventive oncology at primary healthcare level in India, screening for incarcerated women or women living with HIV (WLHIV), she has enabled systems to ensure early screening and treatment for dysplasia is operational at primary, secondary and tertiary level public sector facilities in multiple states in Central and North India including Madhya Pradesh, Uttar Pradesh, Punjab etc. 
Whilst building an ecosystem for cervical cancer screening and detection of cervical dysplasia and driving policy level impact, she has represented India in Africa and South-East Asia on presenting the roadmap to support WHO's Call to Action on Cervical Cancer Elimination 2030. She was invited as a speaker at the International Federation of Cervical Pathology and Colposcopy (IFCPC) – World Congress session by ISCCP. Additionally, she was invited as an expert at the 10th National Conference of Asia-Oceania Research Organization in Genital Infections and Neoplasia (AOGIN).
Her expertise lies in driving strategy, grant management, advocacy, building revenue/for profit models, implementation, stakeholder management, and end-to-end operations including overall administration functions of the organization across nutrition, anaemia, family planning, sexual reproductive health and other verticals in the healthcare domain. She has in-depth understanding of management of large project teams and working with Governments, private and international aid agencies. Cycling, baking and cooking help her de-stress and she dreams of joining the Culinary Arts Academy, Switzerland at some point in life.