She's got everything it takes
By Sarika Phatak, Vice President – Strategic Initiatives, Karkinos Healthcare
She is a mother of three,
She is a soldier,
She is a wife,
She is a surgeon,
She'll save your life,
She's not just a pretty face
She's got everything it takes
She's mother of the human race
She's not, oh
No, she's (She's) not (not)
Just a pretty face
She's (She's) got (Got) everything it takes………..
Those are some beautiful lines from singer Shania Twain's popular number She's not just a pretty face. I am reminded of it whenever I come across women facing challenges in working their way around things.
As a woman, I feel honored to be in the field of cancer care. I head the Command Center Team of Karkinos Healthcare, which is the backbone of all Karkinos' operations in delivering distributed cancer care to the last mile. I take pride in saying that the majority of my team members are women, navigating patients with compassion, empathy through their journey. And on this year's International Women's Day, March 8, 2023, I felt it is relevant to talk about women in the field of cancer, the different hats they don, and the vital roles they play.
Cancer is the greatest leveler. It does not discriminate based on skin color, wealth, geography, climate, or gender. It affects men and women. Much has been written about cancer, the people who shaped the war on cancer, and their journey so far for uplifting humankind. And among them we need to remember the women who not only etched a name for themselves but also contributed to cancer diagnosis and treatment. And to all those women who traveled unchartered territories with their cancer research, participated in clinical trials for successful cancer medicines, defeated cancer, survived to tell their tale, and raise awareness – a big salute to all of them🫡.
Women are many things in the field of cancer. They are research scientists, teachers, innovators, patients, caregivers, clinicians, social workers, and champions who made their life's mission to fight against cancer. On the occasion of International Women's Day, I would like to take the opportunity to pay tribute to women who take on multiple roles in making a difference to cancer care.
I am also immensely proud of all the Karkinos' women employees, thinking out of the box, striving to achieve the mission of providing affordable and accessible cancer care.
Women in R&D and innovation
Marie Curie — But for this woman, cancer diagnostics would have never had a head start! Marie Curie (1867-1934) was a Polish-born physicist and chemist who is best known for her pioneering work on radioactivity. She was the first woman to be awarded a Nobel Prize, and the first person to win two Nobel Prizes in two different fields. 
Curie's work on radioactivity has had a significant impact on cancer research and treatment. Till today, radiation is one of the best recommended treatment options for a cancer patient. Marie Curie's work also paved the way for the development of other imaging and diagnostic techniques that are used in cancer diagnosis and treatment. Her legacy continues to inspire scientists and researchers around the world to develop new and innovative approaches to cancer research and treatment.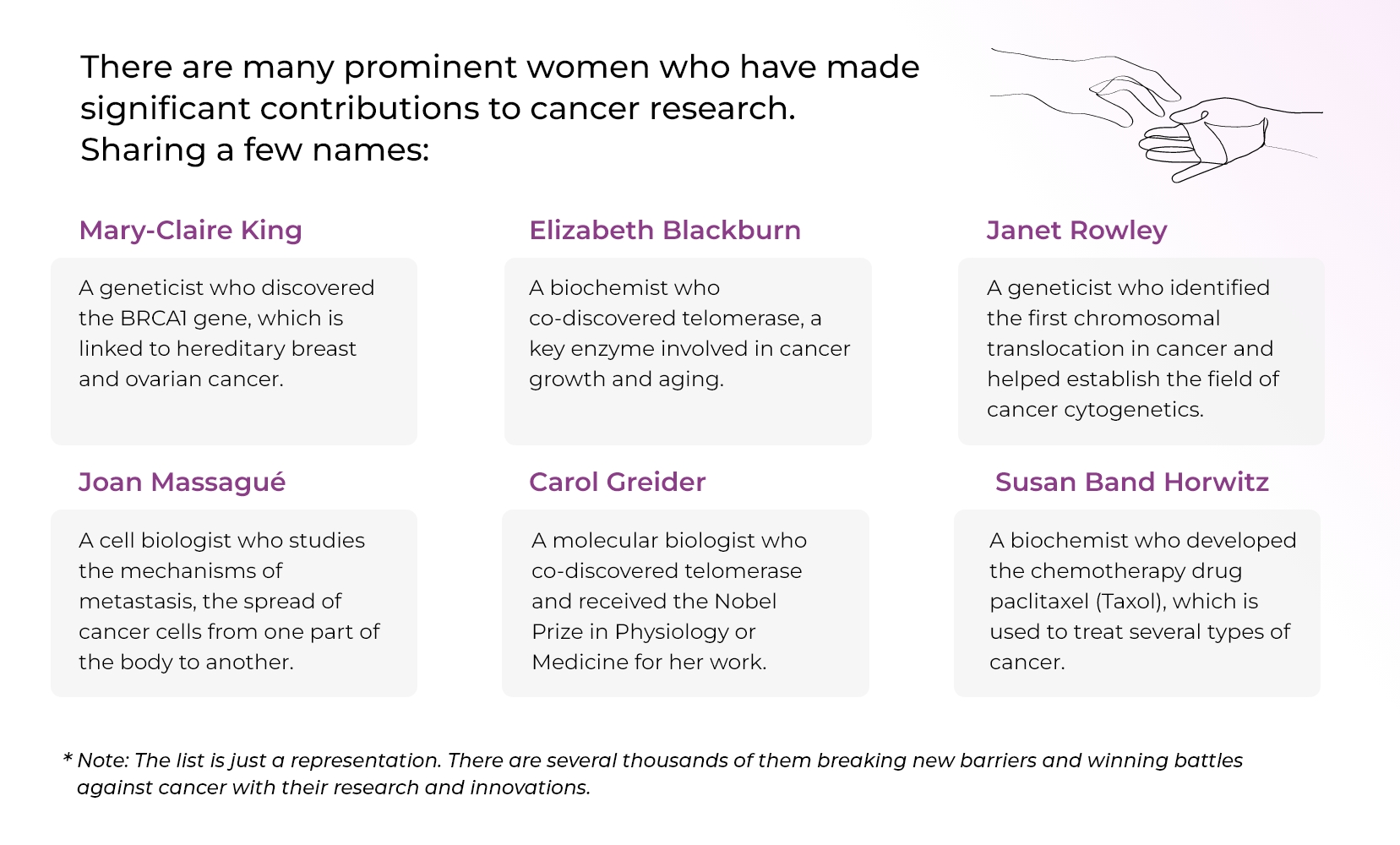 Padma Bhushan awardee Kamal Ranadive from Pune, India, was one of India's trailblazers in early cancer research. In fact, she was probably the first in the nation to propose the correlation between breast cancer occurrence and heredity – which was confirmed by researchers later. Ranadive was considered a genius by Dr V R Khanolkar, the founder of Indian Cancer Research Centre (ICRC). She was a conscientious scientist, who along with a few of her colleagues, founded the Indian Women Scientists' Association (IWSA).
Dr. Sumati Bhide, another founding member and the first president of IWSA, established a Science Laboratory in 1987 to conduct various science programs for school students. This lab encouraged young girls to aspire to be women scientists, way before encouragement of girls to pursue education and careers in STEM was highlighted across the world.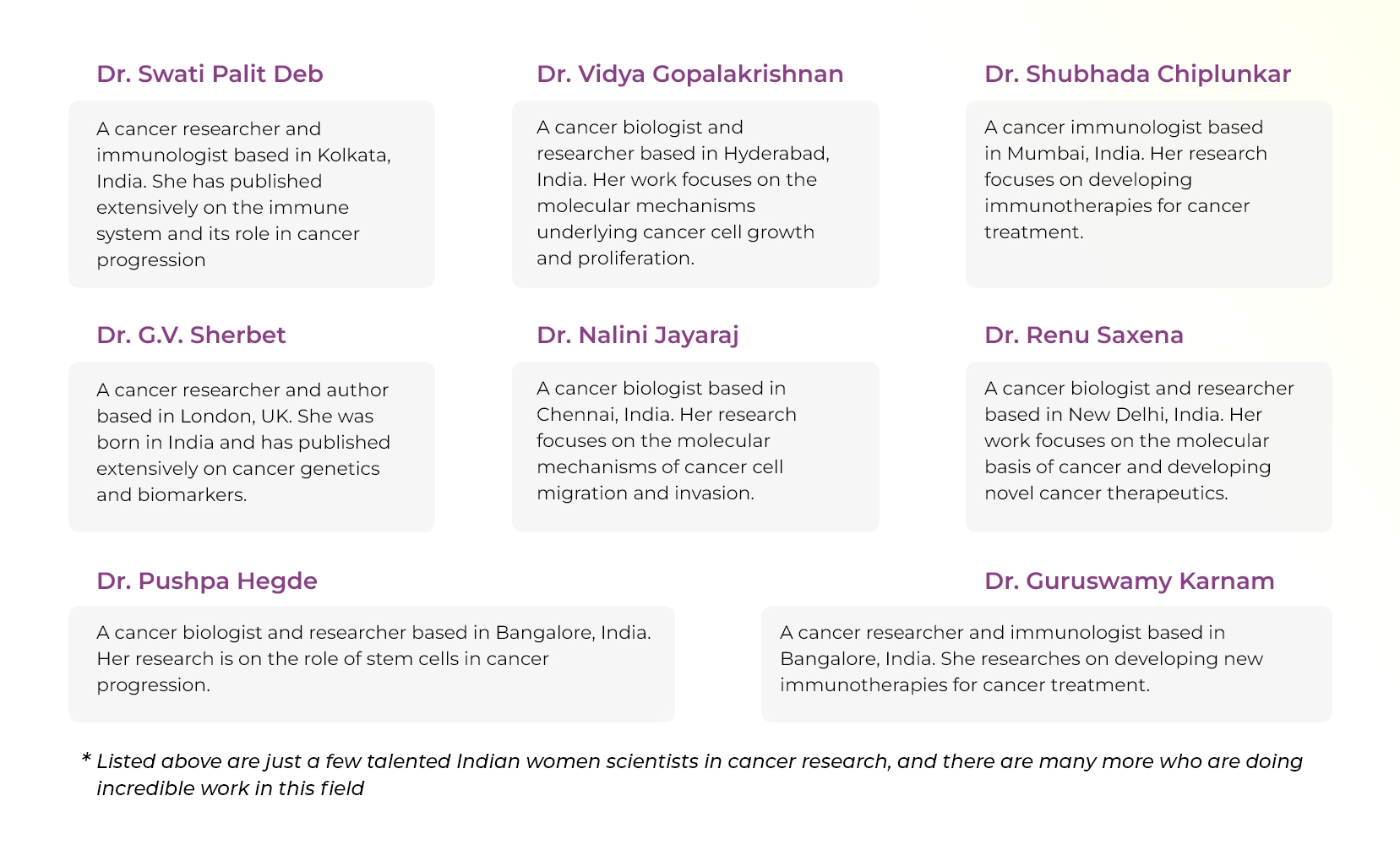 Recently, Dr. Jennifer Doudna, a biochemist, became prominent for her work on the CRISPR-Cas9 gene editing system. This system allows researchers to edit genes with unprecedented precision and has the potential to revolutionize cancer treatment by enabling scientists to target and eliminate cancer cells more effectively. Many young women researchers, all over the world, are exploring the application of Dr. Doudna's findings in advancing cancer vaccines and personalized medicine. 
One woman who I cannot miss to mention in this context is Dr. V. Shanta, a renowned oncologist and the chairperson of the Chennai-based Cancer Institute (WIA). Under Late Dr. Shantha's leadership, the Cancer Institute became one of the leading cancer care centers in India. She was instrumental in the development of the institute's research program and played a key role in the establishment of the Women's Cancer Initiative in India. Dr. Shantha was also involved in several international organizations related to cancer care and research.
In recognition of her contributions to the field of oncology, Dr. Shantha received numerous awards and honors, including the Padma Shri (1986), Padma Bhushan (2006), and Padma Vibhushan (2020), which are among the highest civilian honors in India.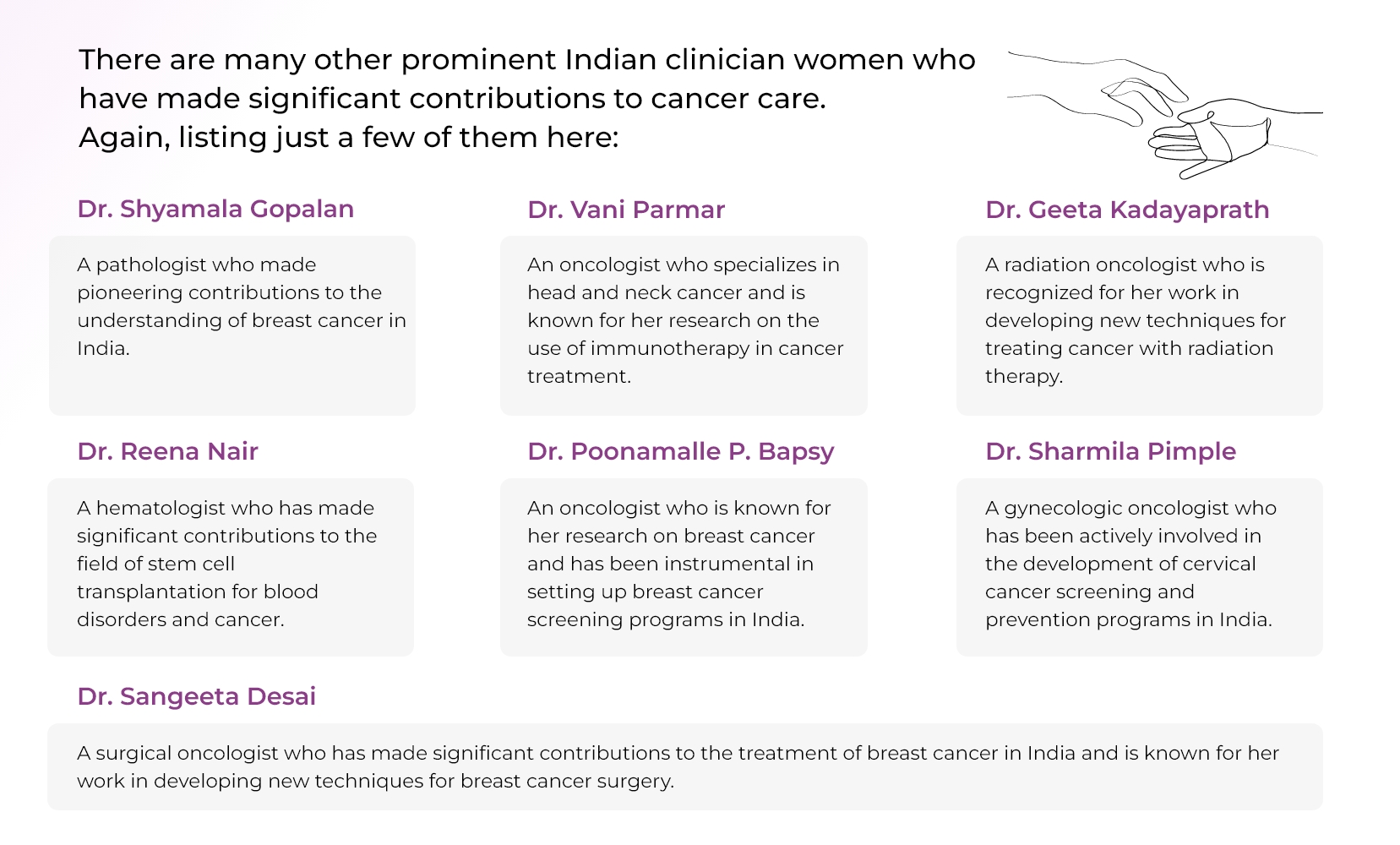 Warrior woman – As a cancer fighter
I call every woman who faces cancer a warrior. Women battling cancer face a wide range of physical, emotional, and social challenges. Cancer treatment can cause a range of physical side effects, like nausea, vomiting, hair loss, fatigue, and pain. These side effects make it difficult for women to carry out their daily activities. 
Women are responsible for running most of the households. They are indispensable to their families. And in the instance of an ailment, the family cripples without her. And the homemaker has to deal with her illness yet continue to manage the home to ensure the family is not disrupted. This is a very serious burden that they carry and this is the major reason for procrastination to attend to her own health issues.
Cancer is a multifaceted misery. Women, especially in the rural parts of a country, face severe stigma or discrimination on a cancer diagnosis. It causes a strain on their relationships with their spouse, family, children, and friends due to the physical and emotional demands of cancer treatment. Also, changes to physical appearance, such as hair loss or scars, may impact a woman's self-esteem and body image. It just drains and demoralizes a woman making them feel more helpless.
Women also do not have the appropriate access to early cancer screening or detection services. Even if they have one, the fear associated with cancer deters them availing the services. What's worse is the patriarchal dominance in most families, where the woman has no decision-making power to undergo regular health check examinations or to determine their care pathway. This is a big bane that impacts cancer treatment. Such delays lead to cancer spreading to major organs ultimately consuming a woman's life. This situation has to change and every woman must begin to fight for her rightful health and well-being.
Women supporting a cancer fighter
When a woman has to support a cancer patient, a spouse or a family member, it can be extremely strenuous and emotionally draining. She is sure to feel overwhelmed by the responsibilities of caring for a loved one suffering cancer. 
A woman, who is supporting a cancer patient, may struggle to cover the cost of medical bills and other expenses. The emotional burden doubles when she is the mother battling her child's cancer. She may put up a brave face in front of her cancer inflicted child, but within her she is a wreck. The emotional turmoil in her cannot be put in words.
Women delivering care – as an oncologist, physician, clinician or social worker
Compassion and empathy – these two qualities in a woman make us a good doctor, teacher, and a social worker. Women oncologists typically tend to look more at the integrated, holistic care and strive to deliver the best for their patients. Women social workers channel their inborn mother's instinct and possess the tenacity and perseverance to engage the population, go door to door and convince people to seek the required care. India's ASHA workers (a women volunteer workforce) have been carrying out public health initiatives in an extraordinary manner to ensure that the local population understand the basics of healthy lifestyle and care of the ill near them. 
Many women are actively involved in the advocacy of women wellness and organize/participate in raising cancer awareness. Women who successfully defeated cancer take the onus to raise awareness about cancer prevention among their communities and on social media. Some of them become the role models for other women who aspire to bring about a change in cancer care. 
Women leaders and technologists
Many women are making it a priority to improve cancer care through technology. We have women improving precision in oncology imaging; building technology platforms to more accurately assess the cancer risk based on lifestyle and genomic profiles; making better diagnostic tests to identify specific gene mutations responsible for the disease; or developing advanced technology solutions that identify the most suitable treatment pathway for the best outcome. 
Women are tirelessly working to build better patient navigation and care coordination platforms that enable seamless communication between patients and the caregivers. They are ensuring gamification platforms to dramatically improve medication adherence and patient compliance. All these technology solutions are going to make an incredible difference in care, their sum being greater than all its parts.
Women changemakers as philanthropists
Many women philanthropists have health and education as their area of impact and have made significant contributions to cancer research and treatment. One of the most notable representatives is Susan G. Komen, who died of breast cancer at the age of 33, founded the Susan G. Komen Breast Cancer Foundation in 1982. This is the largest breast cancer organization in the world. The foundation has raised over $3 billion for breast cancer research, education, and treatment. 
There are many women in India (Mrs. Sudha Murthy, Dr. Kiran Mazumdar-Shaw, etc.) and others who donate with their heart to make cancer a better manageable disease. I cannot fail to mention all the women-led cancer support groups that donate and raise money for caring for cancer and for people who cannot afford the care. I always admire and look up to women who donate their hair for the sake of cancer sufferers who face hair loss because of chemotherapy and other side effects from cancer treatment. Women who come forward for organ donation to cancer patients are laudable.
Women canceling cancer, one step at a time!
The world changes every day for the better. More women are applying for medical schools in the recent few years worldwide. More women are leveraging their innate ability to empathize and care, transforming the technology to be more suitable and more patient centric. More homemakers are opting for part time work, volunteering in care enterprises and community organizations to ensure that the care becomes more accessible and equitable. More women are becoming a stronger and louder voice to ensure that the research and clinical trials are more diverse, inclusive of women and minorities so that the drugs and therapies apply equally for the entire population. Women are making a difference. 
She's got everything it takes!!
On this year's International Women's Day, I urge everyone to Embrace Equity, give a woman a fair chance to live a quality life. It's also important that women make a pledge to take proactive steps about self-care by consulting a doctor periodically for screening. Canceling cancer starts with you. Participate in this moonshot! 
You've got everything it takes!!
ABOUT SARIKA PHATAK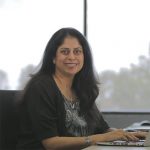 Sarika Phatak is a veteran in healthcare technologies with extensive experience in R&D, product design, product management and business development for a number of healthcare product and service offerings. She has global experience in defining solutions for diagnostic and therapeutic products and connected care at large. Her areas of interest include innovation in medical devices, connected care and population health management, using advanced technologies and design led strategies.
Sarika has wide experience in Fortune 500 companies such as Philips, Harman and Bell Helicopter Textron. After completing her Master's degree in Electrical Engineering from University of Texas, she worked in avionics design in Bell Helicopter Textron. She has extensive hands on experience on working on all aspects of end to end product design and development including hardware, software and industrial design.