Sustainable digital transformation in healthcare: The Golden Triangle Mantra
By Arvind Sivaramakrishnan, Chief Information Officer, Karkinos Healthcare
The words digital transformation in today's connotation has several meanings. Just like how the phrase "beauty in the beholder's eye" means that beauty is subjective and lies in the perception of the observer, digital transformation is subjective and varies from person to person, i.e., digital transformation can mean different things to different organizations and individuals based on the desired outcome of the transformation.
The analogy "beauty in the beholder's eye", therefore, highlights the importance of taking a personalized approach to digital transformation, where organizations must consider their unique needs, priorities, and goals to achieve a successful and meaningful transformation. There is no right or wrong here on the perspective of digital transformation. 
The transformation over the years from dot com to 'e' and now to 'm' (mobility) has been stupendous. Today, digital has taken avatars to deliver omnichannel experiences offering better products and services. And, as for transformation, which stems from eagerness, it could be an eagerness for change or an eagerness for innovation. Innovation involves certain processes done in a different manner that yields an accelerated outcome to the intention of the process. 
Change is, therefore, a movement that is inevitable to bring about a significant or radical shift in the existing processes that ultimately yields a quest to excellence. This quest determines sustainability and scalability in processes. Achieving these two qualities will help accelerate the ability to reach out to more consumers in vast geographies and in the most cost-effective manner.
Empowering healthcare services through digital innovation
Healthcare means clinical services or experts who address medical conditions presented to them at primary, secondary, tertiary, or complicated quaternary health facilities. But healthcare is not just delivering clinical services. There is a need for a mechanism to deliver the core clinical services that satisfies the consumer or the patient. This mechanism is called Operational Services. The operational services' mechanism is responsible for ensuring that clinical services are delivered efficiently and effectively, while maintaining high standards of quality and safety ultimately enabling the patients to receive the best possible care.
To deliver services at good quality and safety have a question tied to them. The question being – at what cost are these services delivered? So, technically clinical services riding on the operational services to reach a consumer for accomplishing a desired medical service should be financially prudent. We, thus, build a triangle with the sides being – operational, clinical, and financial to portray the importance of these factors in a healthcare setting. The linchpin or the centre point of this triangle is Service Excellence.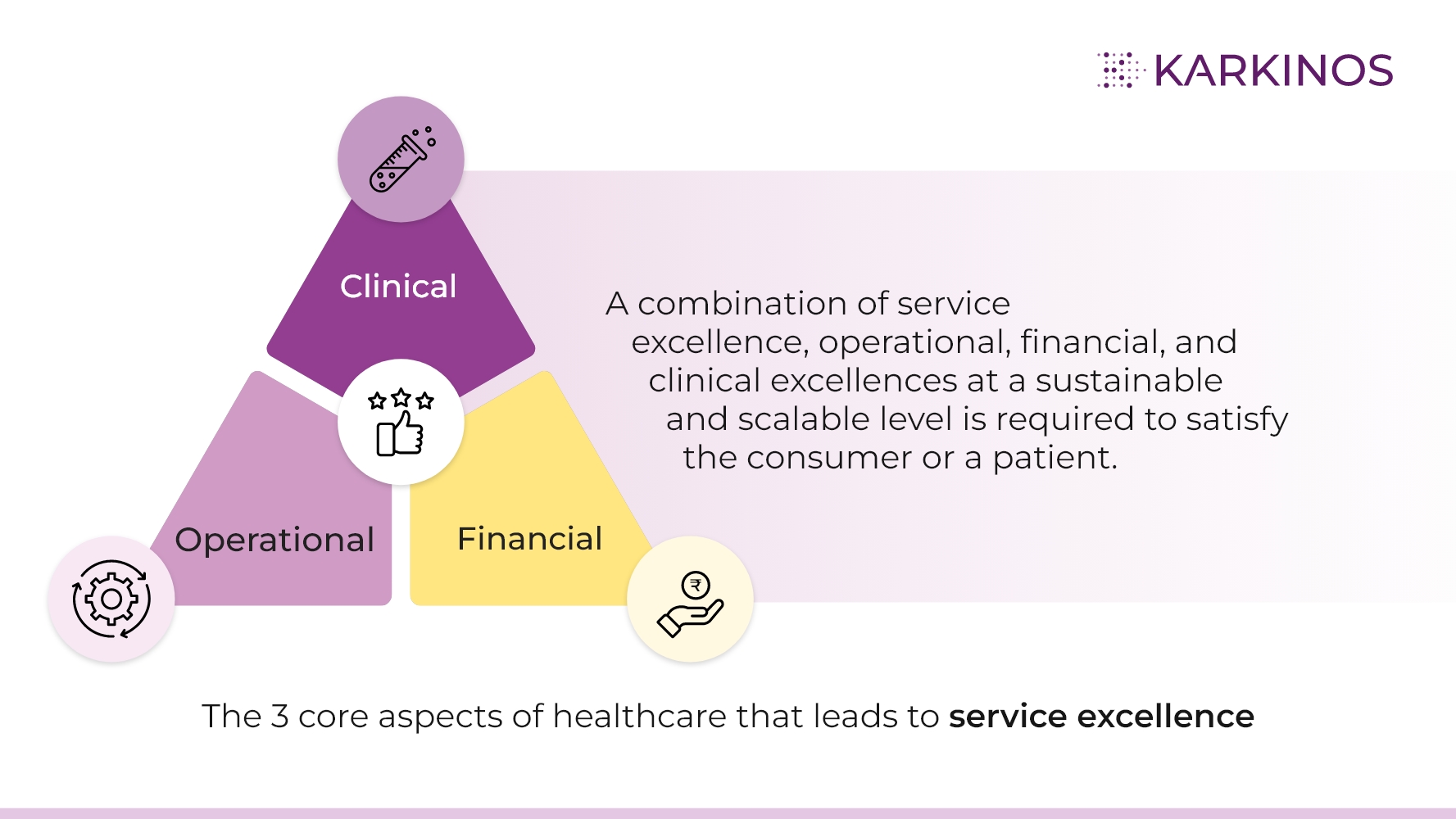 Crudely expressed, operational cost determines the quality of service. In a healthcare context, however, this kind of crude expression will not hold good, because healthcare deals with lives and no life is a statistical number. Every life has to be given equal importance, understanding the urgency and condition of the health of a person, without compromising or diluting the quality of service. Hence, a combination of service excellence, operational, financial, and clinical excellences at a sustainable and scalable level is required to satisfy the consumer or a patient. 
When this combination of services is delivered bearing sustainable and scalable factors in mind, it has to be ensured that these services are consistently followed or repeated in the same manner and at the same time offering more scope for innovation. But we know that consistency is posed by several challenges and that is why it demands good processes, good protocols, and repeatability – forming yet another triangle.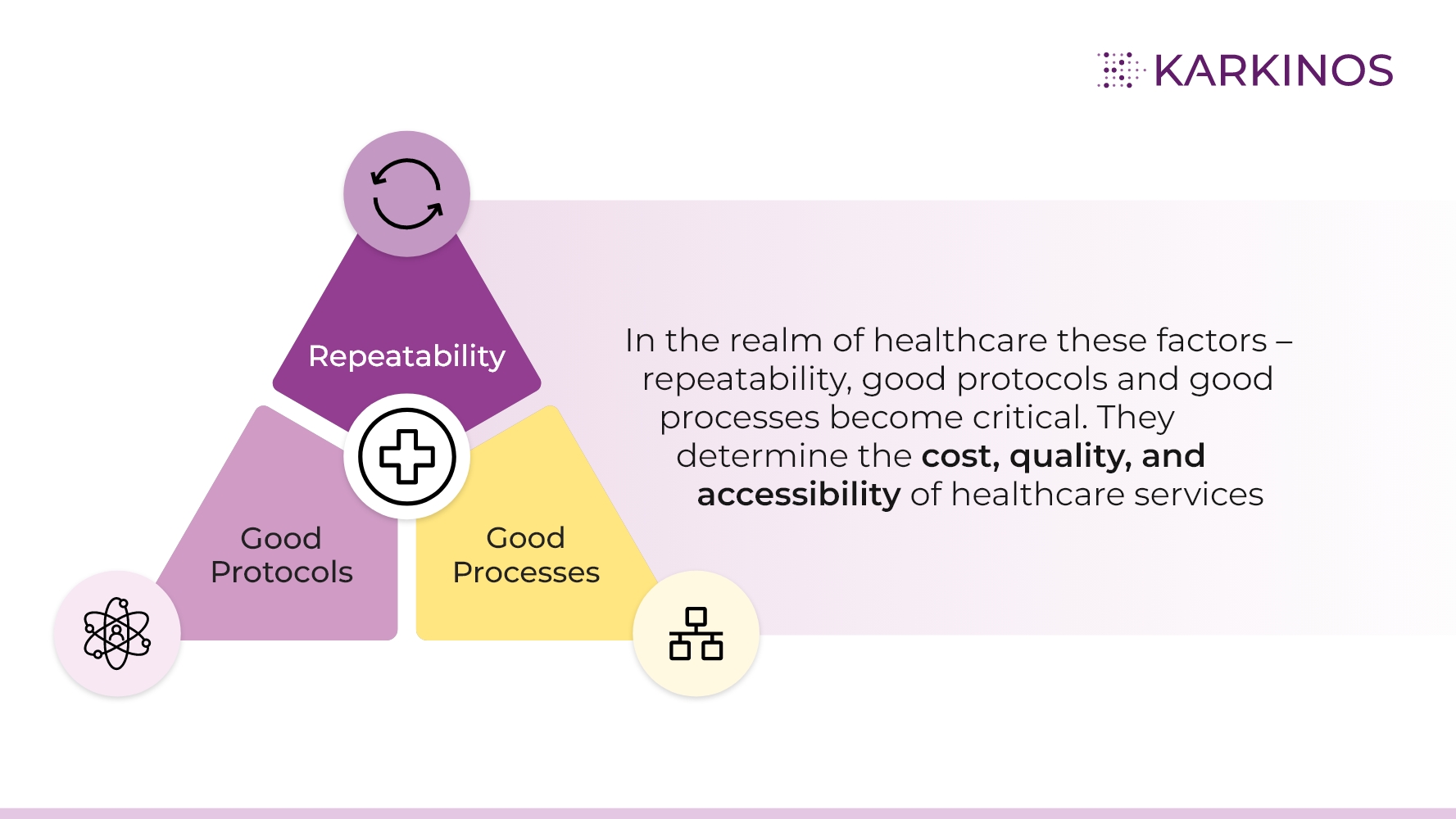 In the realm of healthcare these factors – good protocols, good processes and repeatability become critical. They determine the cost, quality, and accessibility of healthcare services, which then form the "golden triangle of healthcare" because they are the three interdependent and equally important factors essential for delivering high-quality healthcare services to individuals and communities. The golden triangle is a goal to be accomplished forever and one that can never be compromised.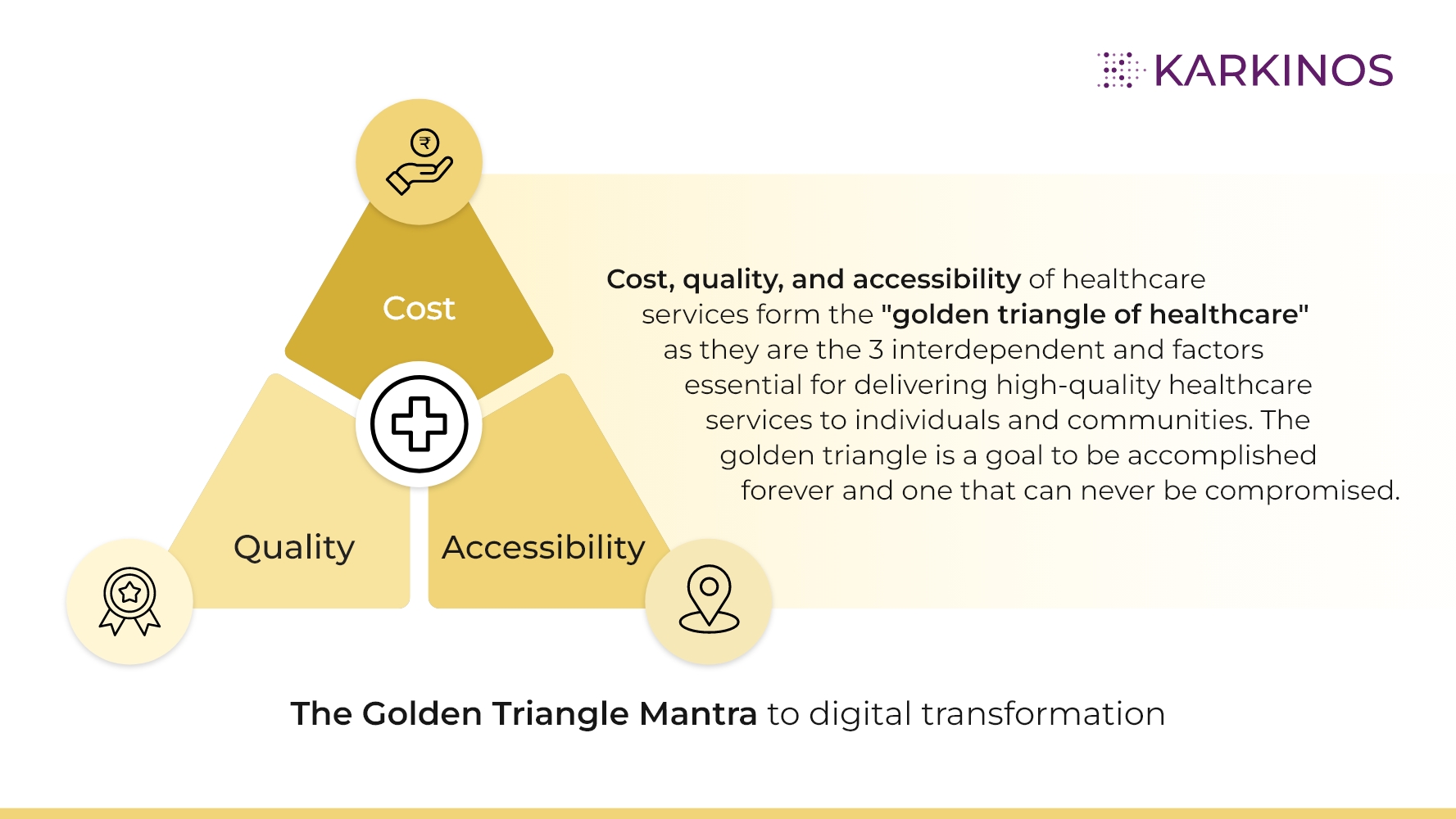 However, the healthcare industry has a number of process constraints that present numerous challenges. There is only a finite availability of services for a planet bearing more than a billion people that need healthcare.
Healthcare's supply-demand cycle, which encompasses both clinical and administrative services, constantly face a mismatch. Efficacious technology-based solutions and a dearth of trained human resources pose more problems. So, there is a ratio mismatch between the cohort of people wanting to consume healthcare services versus a lesser cohort of people delivering the services. The number in this ratio is miniscule and is hardly a ballpark figure. 
These constraints, however, do not take away the need for healthcare, which is in demand all time, any time, every time – making it a 24/7, 365 days requirement. The reality is that every human being on this earth requires some form of healthcare and whenever it is provided it cannot be of sub-optimal quality and quantity. This is where we are compelled to weigh the Golden Triangle aspects. So, to give outcomes at scale, which are sustainable, it can be done only if we ride on a medium/vehicle/platform that is loosely defined as DIGITAL. 
Healthcare is completely a human-oriented service that involves both the consumer and the supplier as a human. Mistakes or what is referred to as human negligence is quite expected in healthcare. There are lapses or oversight, which may be natural to occur, but the question here is – are these mistakes easily accepted? A human life is precious and as mentioned earlier no life is a statistic. Then how can we accept mistakes to be natural if we take life for granted? 
It is certain that there is a requirement for an overarching fabric that governs healthcare delivery offering no scope for compromise on quality and also one that drastically brings down the scope for human errors. This fabric will make it possible for delivering quality healthcare all time, any time, every time and 24/7, 365 days. 
Hence this method of providing omnipresent healthcare services for all time consumption pegs for digital transformation. When the clinical outcomes are expected to be the best of best, matching excellence at all times, digital transformation fits the bill. So clinical activities are at all times rubbing shoulders or even exceeding desirable outcomes. All of this done under a financial umbrella that is affordable (right priced, right sized), and which can be consumed by all strata of people at various economic segments across this planet will meet the true essence of scalable and sustainable healthcare. This will ultimately mean being DIGITAL. 
By using digital services like telemedicine, telepathology, teleradiology, tele-ICU or any tele-mentored services, we embrace technology to make geography a history. Revisiting the supply-demand mismatch ratio, which was hardly a number to have as a ballpark, whereas the demand for healthcare services is ever increasing. 
Technology, therefore, needs to be utilized to help build capacity. So, healthcare that hinges on physical but needs to go beyond the physical presence is what technology has to do. This holy mix of physical and digital leading to phygital will be crucial for capacity building. Phygital will speak of the integration of traditional in-person healthcare services with digital technologies such as telemedicine, remote patient monitoring, and digital health platforms which snowball to improve healthcare systems and services.
As we know the capex to build and maintain healthcare services can be quite substantial, and it can be challenging for healthcare providers and organizations to meet the demands at a large scale. Building healthcare capacity at scale with technology can be a powerful way to bring cost-effective services to a larger population. This can be done without compromising on the quality and clinical outcome in the most cost-effective manner. 
To face the onslaught of NCDs
We are staring at a massive onslaught of Non-Communicable Diseases (NCDs). Diseases such as diabetes, cardiovascular disease, and cancer are on the rise increasingly as our lifestyle habits, like poor diet, lack of physical activity, tobacco use, and excessive alcohol consumption, are changing. Our health is further spoilt by exposure to harmful toxins from fertilizers, pesticides, and other toxic environmental agents. 
The onslaught is grave especially in a population that is crucial to build a nation's economy. A nation cannot afford to lose such an economy-serving population to lack of provisioning adequate healthcare services. The use of technology to ensure every citizen's healthcare – i.e., preventive healthcare, will serve a purpose in building a healthy community that has a positive impact on the society and a nation at large. 
With the rise of social media, digital technology can be harnessed to monitor the state of health of a population. A virtual coach is now possible to act as a companion for one's quest to a good, balanced approach to wellness and health. Social media is a powerful tool to propagate the right ways to maintain optimum body weight, balanced diet, physical exercises, good mental health, and all ways for an overall positive well-being. Today, all of this is possible with the help of implementing cutting-edge digital technology such as Augmented Reality, Virtual Reality, delivered through mediums like and social media. 
Oncology services have also been a great benefiter of digital technology. The ability to early detect cancer by exploiting cognitive algorithms that are Artificial Intelligence-mediated algorithms based on the study of a cohort of people or community has helped us to introduce preventive medicine. The advantages of early detection are many and the rightful use of digital technology has only made the processes enabling the early detection in a more seamless manner. 
When we extrapolate this early detection knowledge by applying deep scientific methods like genetics, genomics or molecular biology combined with AI and other technologies, effective precision health interventions are derived. So digital technology is key to bringing about modern science of diagnosis, especially in oncology that helps bring newer options for treatment, recovery, and reversal of cancer conditions.
Phygital-led distributed care network
Coming back to the aspect of delivering healthcare through a combination modality of physical and digital – phygital- that brings in an entire paradigm of a distributed care network coupled with a pristine patient navigation system benefitting all the stakeholders of the healthcare system. Phygital is key to delivering the right care at the right time to the right person with the right information leading to the right desired clinical outcome. With all of this taking place, a wealth of knowledge is gained through every single transaction (health record generated and corresponding health data recorded) to generate pristine healthcare services.
The knowledge (data) gathered leads to new discoveries that come back into the complicated loop of healthcare delivery and point of care so that guided pathways and protocols coupled with cognitive intelligence can enforce evidence-based care practices. All of this culminates to making distributed healthcare sustainable and scalable thus helping us accomplish the triangular goals of clinical, operational, and financial excellences, making healthcare affordable and accessible, thus proving the worthiness of digital transformation. 
ABOUT ARVIND SIVARAMAKRISHNAN
Arvind Sivaramakrishnan is the CIO of Karkinos Healthcare based in India. He is responsible for driving the IT strategy and digital transformation and designing the digital roadmap of the company. Karkinos Healthcare is a specialist end-to-end technology-driven oncology-focused managed healthcare platform.
Prior to his current assignment, Arvind was the CIO at Apollo Hospitals and was responsible for the IT strategy, digital transformation initiatives, and implementation across the Apollo Hospitals group. Arvind has extensive experience in management consulting, architecting, and building solutions for enterprise-wide applications.
In 2022, he led Apollo Hospitals in achieving the prestigious HIMSS Level 6 Health care IT maturity model certification, which is a rare maturity level attained in the Asia Pacific region. Arvind has led Apollo Hospitals to achieve the CHiME Most Wired Digital Hospital stage 9 for both Acute and Ambulatory care settings in 2021 and Stage 8 certification in the prior years of 2019 and 2020. His experience in the domain of health care IT has spanned geographies across the world.
Arvind holds the credentials of CHCIO certified by the College of Health Information Executives, USA as a Healthcare CIO. He currently serves as the Secretary of CHiME's India chapter and is a member of the board of CHiME in India. He has been inducted into the CIO Hall of fame by the prestigious CIO.in magazine. In 2019, he was felicitated by CIO&Leader for Exemplary
Leadership, Professional excellence, and Community contribution. He was recognized as the CIO of the year in 2022 by the CEO's Association for Inclusive India – SKOCH Group.
Apart from ICT solutions in the Healthcare domain, Arvind has a keen interest in IT solutions that aid Quality and Service excellence in service industries.