Demystifying cancer among rural women: A success story
Dr. Malini Chandrasekharan, Medical Director – South, Karkinos Healthcare
Quite often we think that rural women (who are unlikely to have any structured education) are not intelligent enough to understand matters that require cognitive skills. Well, at least, I was proved wrong. Most recently, I was camping at Krishnagiri, a busy district in Tamil Nadu, an industrial belt with an equally good agrarian population, where I was opportune to interact with the most intelligent Indian women. 
Karkinos Healthcare conducts widespread cancer awareness programs throughout the country. I led one such women wellness and cancer screening program in collaboration with Integrated Village Development Project at Krishnagiri, Tamil Nadu. This program was truly an eye opener on the qualities and intelligence of rural women. Of course, their socio- economic conditions mask these attributes in them, but what impressed me was their willingness and intent to take onus of their health and their family's health. Taking a corrective course of action is possible when a woman makes up her mind – be it rural or urban!
As a motivational speaker and advisor on value parenting, I have done many talk shows and have also conducted various wellness programs for women and children. But Karkinos Healthcare's women-oriented cancer screening program at Krishnagiri was different. Let me tell you why. 
The word cancer echoes FEAR. The word, dropped, is as powerful as a nuclear bomb. It sends shock waves to everybody, affected, or not affected, by this chronic disease. On day 1 of the program at Krishnagiri, my team of nurses, KareMitras, and myself had tall plans of screening 200 women.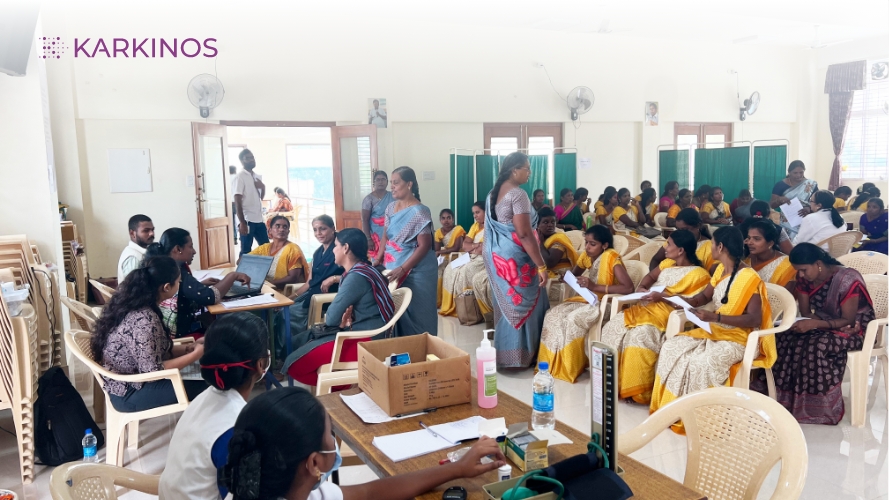 Contrary to our expectation, hardly 90 women turned up on the first day. But we were not dismayed as we appreciated the women who braved themselves to participate. Soon, we discovered that women refrained from participating in the program because of a preconceived notion in them about discovering an ailment in themselves. They feared that when a health problem if detected would lead to disruptions in their family, affect their children's lives and also their ability to earn for their living. Stigmas were heavily clouded in 90% of the women. They were steeped in fear.
We sensed all this and without deterring we gave an enlightening talk in the local language (Tamil) to the women in small batches. In my speech to them, I first assured them that cancer is not to be feared. 
I explained everything about early detection of cancer, its advantages, symptoms to watch out for, the modifiable factors and non-modifiable factors that cause cancer, the ill-effects of tobacco consumption, bad dietary habits, and everything else that is bad for health that may pose as a risk factor of cancer. Details about cervical cancer and breast cancer were elaborately explained. I gave the women analogies from real life.
As most of the women were farmers, I gave an example about an unwanted weed growing amidst a cash crop. I explained that cancer is similar to the weed amidst the crop, and it needs to be removed really early before it consumes the entire crop and causes monetary losses. Likewise, the advantage of detecting cancer early at a stage before it affects the body's vital organs and that it needs to be prevented or treated based on the cancer was explained in detail.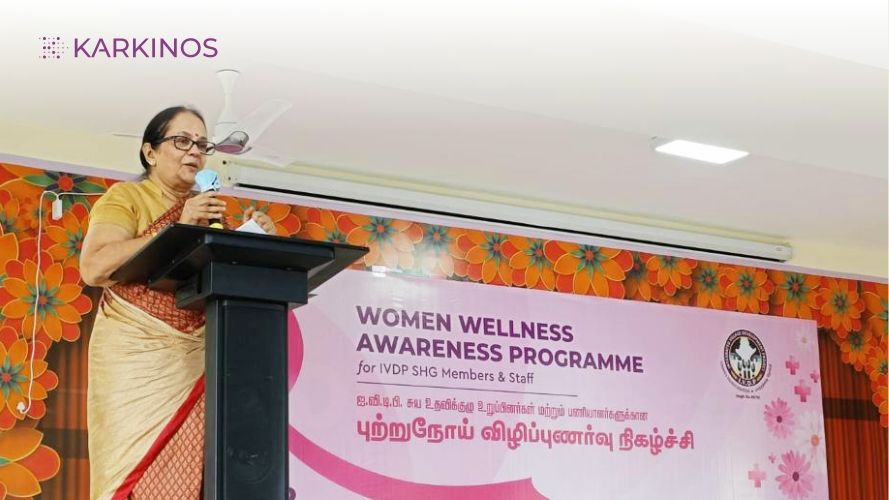 This talk became so assuring and encouraging. All the women who heard me were convinced that what was happening at the program, organized exclusively for them, is beneficial for their healthy well-being. Post my speech, I was open to taking one-on-one questions from the women. I was rather surprised with the questions – they were all pertinent, intelligent, and a clear showcase of the women's eagerness to know about cancer. Most of these intelligent and relevant questions were never asked even by the most erudite urban women. And there is where we felt, we finally broke the ice with the bunch of ladies! We took a moment of pride! 
It so happened that in many women, there was at least 1 family member (distant or close) being affected by cancer. Many women know cancer is a grave disease from seeing movie stars perform as cancer victims. In some women, these reasons became a cause to be aware about cancer and to know how to prevent it for themselves as well as for their offspring.
Giving a speech and answering queries, assuring them about the program's advantages is only half game won. There were many more challenges to face. The reluctance and shyness that prevented cervical cancer and breast cancer examination was overwhelming. It took a great deal of effort to convince them to undress even in front of female nurses in private examination rooms. But my team efficiently handled those issues. We were able to convince the women about their privacy, safety, and confidentiality. Once convinced, the processes started to fall in place. One particular woman, around 55 years of age, while getting herself screened, asked a very intelligent question that got us started to explain the Breast Self-Examination method.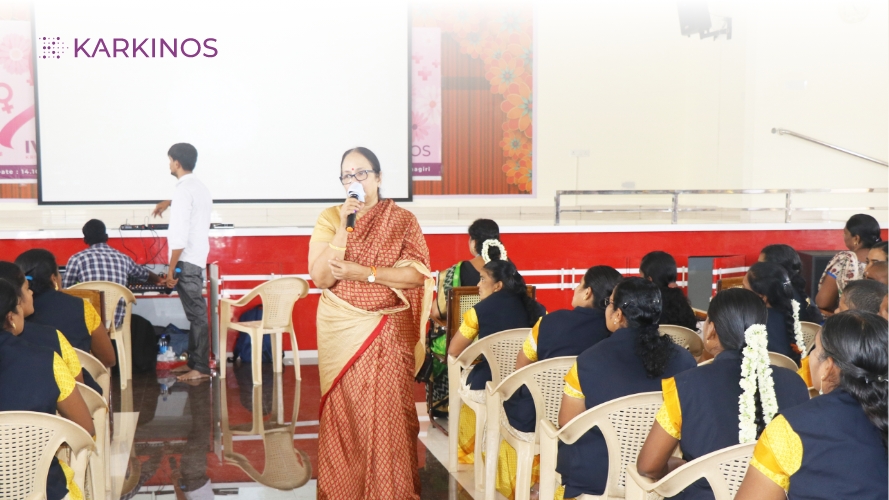 As Karkinos' wellness program takes place every month at Krishnagiri but for different groups, the 55-year-old woman asked me, in that case, what she should do to keep an eye out for symptoms of breast cancer. This question proved so important to us and we started demonstrating in detail to small groups of women privately on self-examination of the breasts to detect early cancer of the breast.
The next biggest challenge was to explain in detail about the causes of cervical cancer in women. It is a very common misconception among women that cervical cancer-causing Human Papilloma Virus (HPV) is sexually transmitted (meaning cervical cancer is thought to be a sexually transmitted disease). There were 10% of the women who turned out to be positive for HPV 16 and 18. These women were so petrified by the fact that their test results came positive. Not only did the women think bad about themselves, they grew suspicious about their husbands, which would presumably lead to family feuds. But these women were ably counselled by us and we assured them of how the virus infects the cervix, its predisposing conditions, the best way to prevent the cancer and finally the advantages of early detection.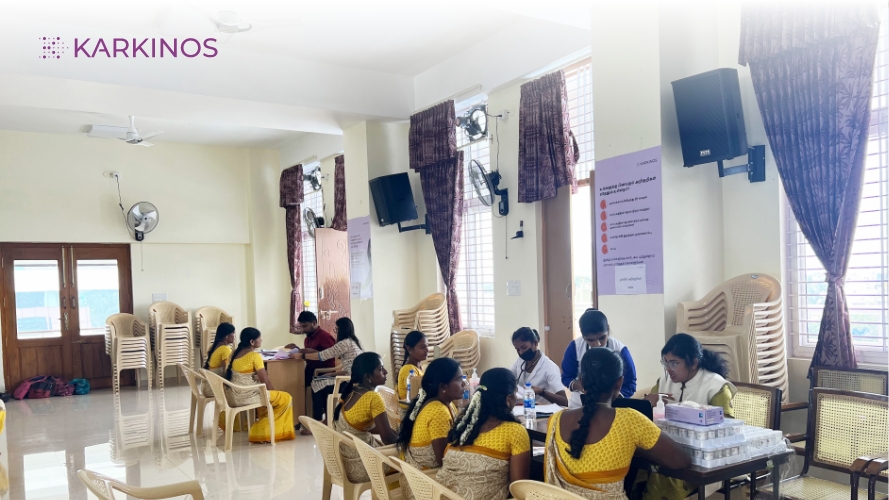 One point that had to be made very clear to the women was that the HPV virus will remain symptomless within one's cervical canal for a long time (10-15 years) and towards the end of the period may/will cause cervical cancer. The screenings done in the camp will detect the presence of HPV16 or HPV18 or both; and those who are detected will be referred to an advanced camp where we do Colposcopy, Biopsy & Thermal Ablation or LEEP, and proceed to treatment based on biopsy and hematology reports.
While counselling effectively, explaining the physiology of our body and all about cancer in a simple language, with proper anecdotes and analogies, 90% of the women were convinced that the Karkinos Women Wellness Program was there for a very valuable reason.
Awareness instilled pays-off bigtime
They say it takes a village to raise a child, but I would say it takes the women in a village to defeat cancer. While the women themselves were convinced about the motto of Karkinos' cancer screening program, their families largely benefitted too. Now that she is aware of the symptoms of the most common cancers, the woman now helps 3 families (i.e., her own family, her in-laws' family, and her parents' family) to prevent or early detect cancer. Let me share an instance to prove this. While addressing a small batch of women on the signs and symptoms of the common cancers, I had given symptoms of difficulty in swallowing. 
A woman who participated approached me and told me that her husband was showing these symptoms for the past few weeks. Though it was a women's wellness program, we asked the woman to bring her husband, and Dr. R. Sankar Narayanan, Director, Preventive Oncology, Karkinos Healthcare, directed him to undergo investigations (Endoscopy and Biopsy). He was diagnosed with early cancer in the distal part of the esophagus. 
The cancer in him was detected at a manageable stage with the least financial implication. There are many other such instances where a woman has been an enabler to early detection of cancer in another person. I could quote those endlessly.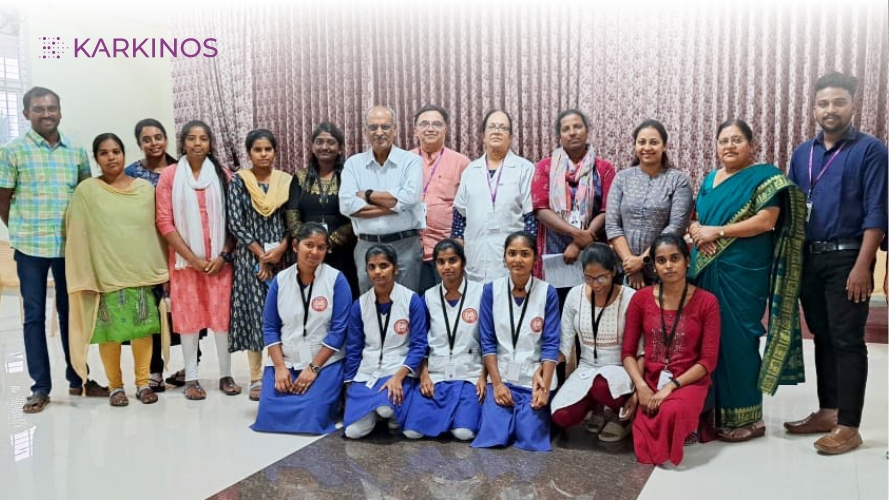 At our end we grew more confident in seeing the women emerge out of their cocoons. From seeing just 90 women on day 1 turn up for the program, we had 200-225 women each day voluntarily walk in for examination. The 90 women spread the word to the entire village on the benefits of participating in Karkinos' program.
The women came with curiosity, hope, anticipation and what not. It was clear that they wanted to take charge of their health. They wanted to be educated on cancer. Team Karkinos and I were jubilant about the fact that most of the women are aware about cancer. We were relieved to know that the majority of the women shackled the fear about cancer after attending the program. They now know what to look out for and how to go about taking care of themselves.
What are the key takeaways?
Women are very sensible, understanding, and very committed. I may have handled all rural women at the Krishnagiri program, but all these women genuinely understood and cared for their health and the health of people associated with them. It was obvious that they wanted healthcare to come to them. I am sure none of these women would have ever thought of taking a day off from work or home to get a basic, general health check-up done. They would have knocked on the doors of a hospital or doctor only when a major symptom is felt. The women in Krishnagiri, on the other hand, saw it as a blessing that Karkinos had established a programme within their community. The accessibility definitely scored all the brownie points here. 
On this year's International Women's Day, I would like to proudly admit that as a woman I feel honored to be in the position to empower women with the knowledge about cancer prevention and equally proud of all the women who have joined hands in support to fight cancer. Embrace Equity – the theme for this year's Women's Day – was truly reflected through the wellness programs conducted by Karkinos Healthcare. The almighty has been kind to give me the power and will to make the program happen and to touch the lives of many women. 
My only wish is that organizations like Karkinos Healthcare, having the advantage of digital healthcare infrastructure, must do more to take cancer screening programs closer to the homes of women, so that the deprived have the advantage of gaining access to quality healthcare services.
ABOUT Dr. Malini Chandrasekharan
An ophthalmologist and a physician by profession, Dr. Malini Chandrasekharan graduated from the prestigious Madras Medical College in Chennai. She began her practice in Doha, Qatar. Her interest to acquire more knowledge made her enroll at the University of Aarhus Medical School, Denmark where she obtained a Diploma in Modern Asthma Management.
Dr. Malini is the Founding Member of the first overseas chapter of Indian Medical Association in Qatar and has served as the Vice President of the chapter. During her 30 years of practice, she was the Designated Medical Officer for immigration to Canada, Australia & New Zealand. She is recognized for her Family Counseling initiatives and has been invited to various professional forums to speak on several topics as a guest speaker.
A mother, advocate for vulnerable humans and working towards internal peace, and life balance, Dr. Malini's passion towards spirituality grew. She believed that teaching children the values of life would make them a better human being. She therefore trained as a teacher at the Thailand Institute of Human Values and has conducted many workshops in integrating Human Values into the curriculum of various schools.
She was instrumental in setting up several medical camps for the vulnerable in Qatar. The Indian Community Benevolent Fund under the aegis of Indian Embassy, Qatar conferred Dr. Malini with the Best Humanitarian Award.
Retired from professional life, she was actively involved with geriatric and palliative care in various old age homes in and around Chennai. Presently, since 01 Aug 2022 she has joined as the Honorary Medical Director (South) of Karkinos Private Healthcare Limited. Her long-term vision is to make a significant impact on overall health and wellbeing, especially for rural women.