Karkinos Healthcare's Application Suite integrated in ABDM to achieve Preventive and Promotive healthcare in India
Karkinos Healthcare is now one among the Top 50 digital health companies to have integrated its services into the Ayushman Bharat Digital Mission (ABDM). Team Karkinos is grateful to the National Health Authority for helping us achieve the three milestones, we intended, in line with the goals set by ABDM. The timing of this integration coincides with India's 75th Year Independence Day celebrations, adding to the spirit of Azadi ka Amrit Mahotsav. 
The National Health Authority (NHA) under its flagship scheme Ayushman Bharat Digital Mission (ABDM) is building a comprehensive digital health ecosystem for the country that advocates Universal Health Coverage in a digital, inclusive, affordable, efficient, safe, and accessible manner. It also aims to deliver and store patient-related data and information to act as a one-stop-platform for healthcare consultation and records.
Karkinos Healthcare was among the Top 50 applications to have integrated with the ABDM Framework. After a successful demonstration, Karkinos' Application Suite was approved to be added to the ABDM Partners Ecosystem across all the three milestones.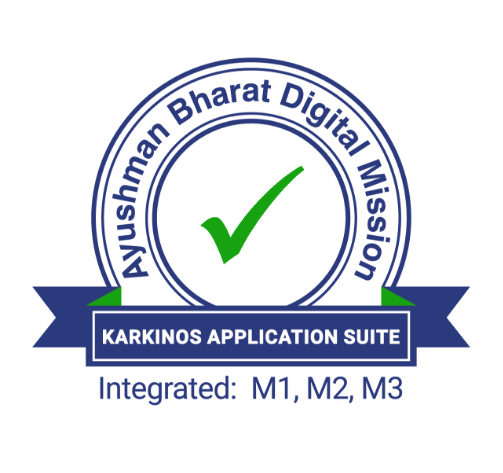 Karkinos Application Suite on integration with ABDM has the following capabilities:
1. Milestone 1: ABHA number creation and capture & verification for seamless patient registration.
2. Milestone 2: Building Health Information Provider (HIP) services to share digital records to the citizens via any Personal Health Records (PHR) certified app.
3. Milestone 3: Developing Health Information User (HIU) services to provide view of patient's medical history to authorized healthcare workers with citizen consent.
Objectives of ABDM
The National Health Authority (NHA) is the implementing agency of Ayushman Bharat Digital Mission (ABDM), which aims to create a seamless online platform through the provision of a wide-range of data, information and infrastructure services, duly leveraging open, interoperable, standards-based digital systems while ensuring the security, confidentiality and privacy of health-related personal information.
What is ABHA?
It is important to standardize the process of identification of an individual across healthcare providers. This is the only way to ensure that the created medical records are issued to the correct individual or accessed by Health Information User through appropriate consent. In order to issue the UHID, the system must collect certain basic details including demographic and location, family/relationship, and contact details. Ability to update contact information easily is the key. The ABHA number will be used for the purposes of uniquely identifying persons, authenticating them, and threading their health records (only with the informed consent of the patient) across multiple systems and stakeholders.
Benefits of ABHA
Health care professionals across disciplines will have better access to a patient's medical history (with the necessary informed consent) for prescribing more appropriate and effective health interventions. The integrated ecosystem will also enable a better continuum of care. Ayushman Bharat Digital Mission (ABDM) will help digitize the claims process and enable faster reimbursement. This will enhance the overall ease of providing services amongst the health care providers.
The core components of ABDM are listed in this site: https://abdm.gov.in/abdm
ABDM will not only facilitate evidence-based decision making for effective public health interventions, but it is also expected to catalyze innovation and generate employment across the healthcare ecosystem.
This mission is expected to improve equitable access to quality healthcare by encouraging use of technologies such as telemedicine and enabling national portability of health services.
According to Dr R. S. Sharma, CEO, NHA, the ABDM integrators are the government's crucial partners in the journey of taking the benefits of digital healthcare delivery to the masses. He believes as more and more existing health applications join the ecosystem, the scope for innovation increases and the system evolves much faster.
The integrations signify how the public and private sectors can come together and collaborate to strengthen a digital health ecosystem for the country. The tally of integrated companies now includes 20 government applications and 32 private sector applications under ABDM.
Karkinos Healthcare, therefore, aims to democratize access to cancer care services by creating a technology-enabled data driven platform wherein the knowledge architecture is centralized and the delivery systems are democratized and distributed.
The solution encompasses a hub and spoke hospital infrastructure, which enables service to cover a wide spectrum of patients, with optimal capital deployment. The model relies on anchor referral hospital/s that can cater to complex cases, surgery, and radiotherapy, duly supported by a network of smaller centres for catering to diagnosis and ongoing treatment.
The network is designed to be wired to enable connectivity amongst all centres, seamless access to data, diagnostics, and patient consulting that includes a combination of a central knowledge repository, diagnostic capabilities, and a common human resources pool.
The National Health Policy (NHP) 2017 has the following goal: "The attainment of the highest possible level of health and wellbeing for all at all ages, through a preventive and promotive health care orientation in all developmental policies, and universal access to good quality health care services without anyone having to face financial hardship as a consequence."
Karkinos Healthcare is thus streamlining its efforts to be a part of fulfilling this goal by deploying its digital oncology technology to bring about preventive and promotive healthcare services in the cancer care vertical, while spreading awareness on early cancer prevention and diagnosis and general wellness among the Indian citizens.
ABDM Hackathon Runners Up
A team of health-tech enthusiasts from Karkinos Healthcare participated in the ABDM Hackathon Innovation Challenge 7. The team was adjudged the Runners Up Prize for its innovative hack in healthcare.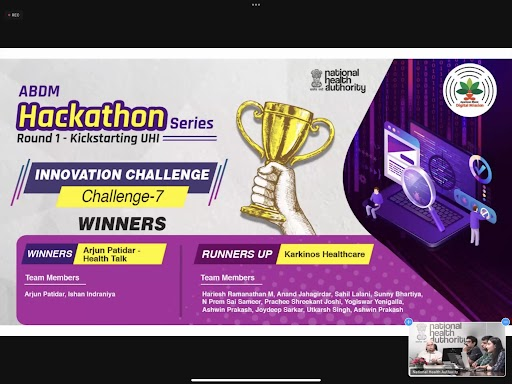 The objective of this challenge was to build application specific features which can demonstrably reduce the time taken in healthcare administrative or operative functions. 
National Health Authority (NHA) is hosting a series of open-to-all hackathons to drive ideation and innovations around the different building blocks in the Ayushman Bharat Digital Mission (ABDM) ecosystem.