Karkinos Healthcare establishes India's first oncology laboratory for comprehensive cancer diagnostic services
The cancer diagnostic and delivery platform in India is now proportionately inadequate, with around 1.32 million new cancer cases detected every year. Over 70% of the cancer cases are diagnosed late, with 20% higher mortality rates compared to countries with high Human Development Index (HDI). There exists a significant demand-supply gap in the country, where data indicates that the current system needs 35% more oncology beds, four times more linear accelerators and five times more radiotherapy technicians.
In addition to the existing woes, the regional and tertiary centers face huge clinical volumes leading to longer wait times for diagnosis and treatment that can be in excess of 12 weeks. The travel time to the nearest center in rural areas is 8-10 hours. With high treatment costs and out- of-pocket expenses, and less than 80% of the population with health insurance, only 20% can afford cancer treatment leading to emotional, mental, and financial burden to individuals and families.
These woes compel the need to overhaul the current operating model and to encourage the establishment of participatory systems rather than proprietary systems. With the rise in the number of cancer cases, there is a need to also understand the biology of cancer to provide the right treatment protocol for the patient at the right time. With 48% annual growth rate of healthcare data, the estimated big data market size is $69 billion by 2025, which reduce genome and DNA sequencing costs and create opportunities to personalize care and improve broken patient experiences
Apart from these woes, today's biggest challenge in India is overreliance on the western data and guidelines. The cancers in this country have their own genomic footprint that could be different from what we see in the west. Karkinos Healthcare believes in investing in the Whole Genome Sequencing (WGS) method to enable understanding of the Indian genomic cancer map. The journey in cancer genomics will uncover new biomarkers that can enhance early detection and delivery of care. We are certain that collaborative efforts across science, including drug discovery for mutations pertinent to the country, will enhance the level of care provided.
Bearing in mind all these requisites in cancer care Karkinos Healthcare has established an Advanced Center for Cancer Diagnosis and Research Center (ACCDR) and Centre for Biomedical Research, Innovation and Commercialisation in Cancer (BRIC). These centers will leverage capabilities and spearhead the cancer care delivery with robust, evidence-based and data-supported protocols bringing in a generational shift in the way cancer care is delivered in India.
Karkinos Healthcare also wants to bring synergy in distributed healthcare infrastructure through technology, so that cancer screening can be done at the community level and patient care becomes coordinated and seamless through the Karkinos Command Center. Karkinos Healthcare strives to create an India specific cancer genomic tumor panel and support other clinicians, scientists and academic organizations in various applied research programs.
Bridging the gaps in cancer diagnostics
Karkinos Healthcare aims to significantly enhance access to cancer care services by creating a technology-enabled data driven platform and Distributed Cancer Care Model (DCCM), wherein the knowledge architecture is centralized, and the delivery systems are democratized and distributed. The mission is to establish a one-stop patient-centric oncology platform bringing improved nation-wide cancer care to patients using a data driven distributed cancer care ecosystem of doctors, clinics, hospitals and digital mediums. The company will use technology and AI-based continuous feedback processes to improvise care to patient needs, the learnings of which would be scaled up within India and beyond.
This determination to deliver quality cancer care led Karkinos Healthcare to establish the Advanced Center for Cancer Diagnostics and Research (ACCDR) and the Centre for Biomedical Research, Innovation and Commercialisation in Cancer (BRIC). While the ACCDR is a state-of-the-art lab and a one-stop solution for all diagnostics related to cancer, including histopathology, Immunohistochemistry (IHC), Fluorescence in situ hybridisation (FISH), molecular tests and gene sequencing, the Center for Biomedical Research, Innovation and Commercialisation in Cancer (BRIC) focuses on technology research and establishing an innovation ecosystem for cancers.
Central lab to aid personalized therapy
It is important that a patient receives the right diagnosis to enable the right treatment. Labs have moved beyond diagnosis to provide evidence-based precision medicine with tests that enable oncologists to decide the right therapy for the patient. Due to significant diversity in the genetic pool, the existing genome level interventions may not be readily applicable in the Indian population, hence Karkinos Healthcare believes it is most appropriate to get the next generational labs which cater to needs of the society all under one roof. And the consequence of this thought is the launch of ACCDR.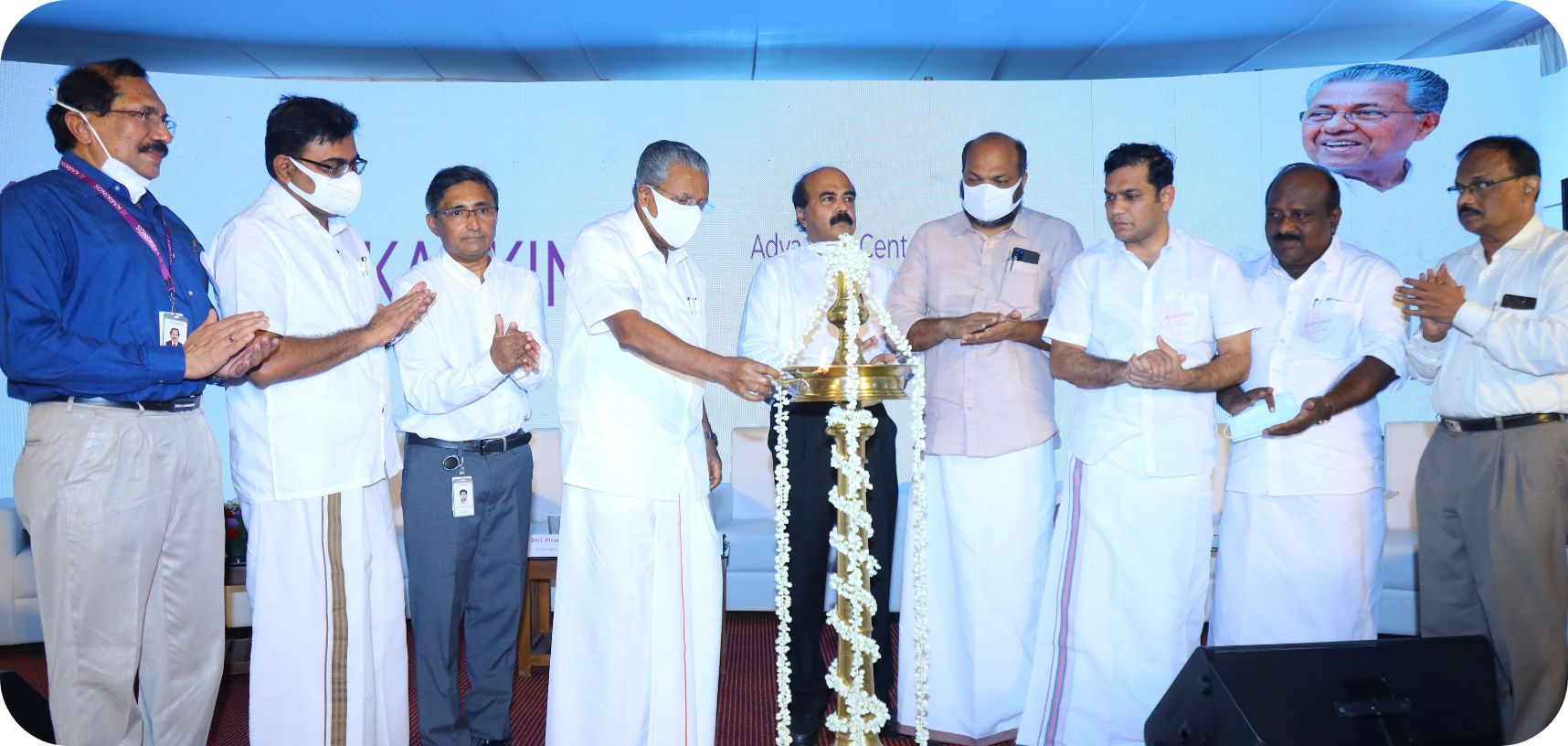 Kerala Chief Minister Pinarayi Vijayan, on June 11, 2022, inaugurated Karkinos Healthcare's Advanced Center for Cancer Diagnostics and Research (ACCDR) –– the country's first oncology laboratory for comprehensive cancer diagnostic services. The other dignitaries present during the launch were P. Rajeev, Hon'ble Minister for Industries, Law and Coir, Government of Kerala and Prof. Mohanan Kunnummal, Vice-Chancellor, Kerala University of Health Sciences and Team Karkinos. The lab is located on the third floor of the JLN Stadium Metro Station at Kaloor, Kochi.
The Advanced Center for Cancer Diagnostics and Research (ACCDR) will serve as a central lab for Karkinos Healthcare's global oncology network, analyzing specimens at molecular and genomic level to aid in personalized targeted therapy, predicting possible response to treatment as well as to evaluate response by liquid biopsy. The focus is on early diagnostic tools, molecular assays for precision medicine, which are not readily available in the country. Karkinos Healthcare has installed the most advanced high-throughput HPV assay equipment Cobas 6800 in this center with the ability to test over 1200 Human Papilloma Virus (HPV) assays of all high-risk types.
The ACCDR is a next generation lab, established over an area of over 15000 sq. feet at Kochi, which is accessible by road, metro, rail and international airport. It is a one-of-a-kind comprehensive oncology focused lab that has immunohistochemistry, histopathology and molecular diagnostics. Karkinos Healthcare's contribution through amalgamation of data from screening, pathology, imaging, molecular analysis, and digital scanning will help build robust data that can revolutionize cancer treatment delivery in India. The vision of the next generation lab is to be a world-class referral lab transforming patient care and research.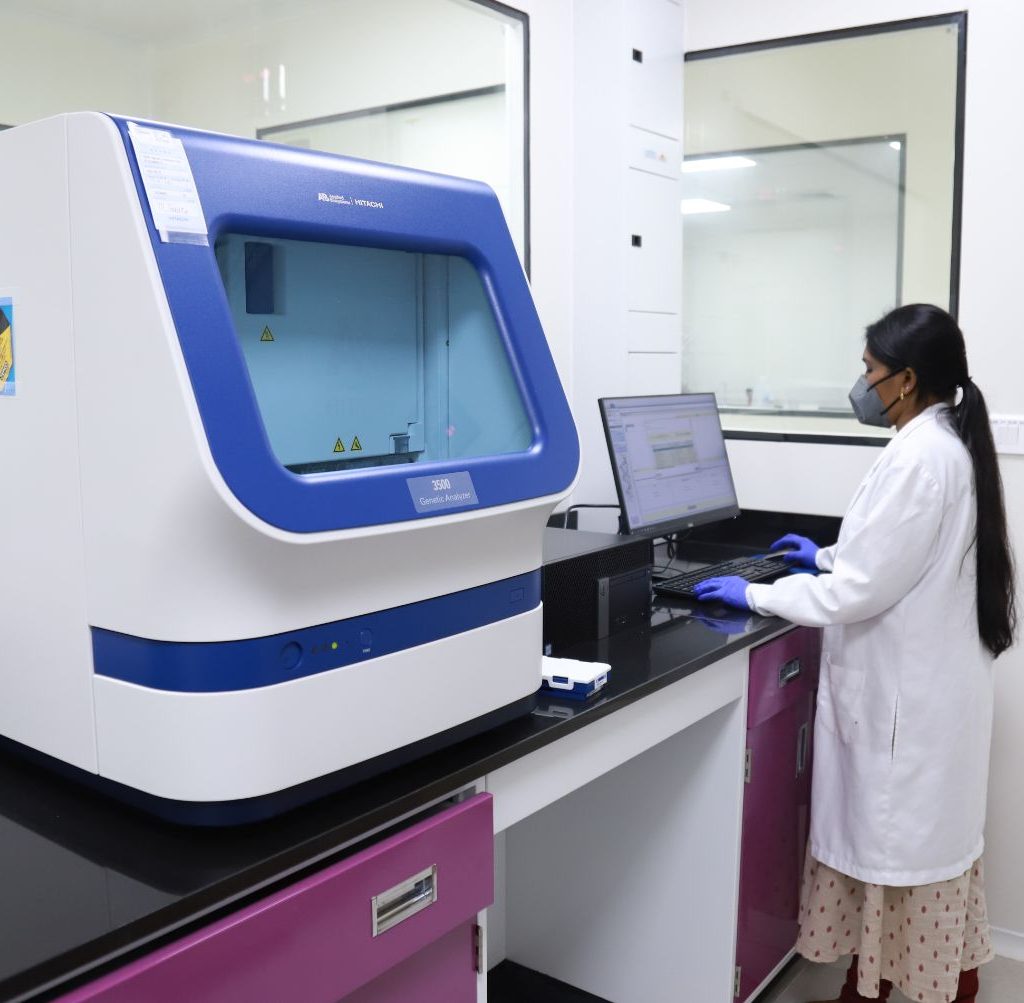 Following are the integrated offerings available at this unique facility: 
Central Lab for Karkinos Healthcare global oncology network, offering comprehensive cancer diagnostics services from immunohistochemistry, histopathology, molecular pathology, liquid biopsy to whole genome sequencing (WGS).
Digital pathology to take advanced cancer diagnostics to the people (cancer center without walls) – Enabling digital pathology, through Karkinos Healthcare network connects the most advanced cancer diagnostic expertise to the remotest parts of the country.
Integrated cancer diagnostic services, where a multifaceted team of clinicians to basic scientists and technologists work closely to solve the problem of the patients and other clinicians.
Anchor point for virtual molecular tumor board, providing individualized precision oncology care based on the tumor genomics.
Research first organization – The lab has dedicated services that strive to create solutions for the future through frugal innovation.
Biobanking:

The ability to bank fresh tissues, blood, saliva and buccal smears of patients helps plan any research and collaborative efforts in biomarker and drug discovery.

Karkinos 1K gene panel

: It is important we work on our regional gene panel for our country rather than depend largely on the western country's comprehensive profiling that is validated for their population. The scalability of work here and WGS will help shape the comprehensive panel in near future.

Affordable companion

cancer diagnostic assay

to support precision medicine care.

Ex-vivo tumor culture

facilities to develop organoids for personalized precision medicine through functional drug assays.

AI-ML

: Ability to do 3D reconstruction on mega blocks processed help us to achieve predictable models in cancer care in the future.

Affordable excellence:

Global standards of excellence in every aspect of laboratory services, from sample collection, transportation, analysis and reporting, was ensured. CAP CLIA and NABL accredited labs help to sustain reliability of test results.

Education i

s also essential to ensure that this movement percolates through the health sector. Through fellowship courses, training workshops, science webinars, conferences and panel discussions, Karkinos Healthcare will collaborate and share across our fraternity.

Training

next generation laboratory medicine experts, encourage short-term courses and fellowships in the lab.
Centre for Biomedical Research, Innovation and Commercialisation in Cancer (BRIC)
BRIC serves as a nodal facility to support translational research, through partnering with many principal investigators, cancer centers, research institutes, and industrial leaders. With a network of global leaders in cancer diagnostics and therapeutics, BRIC aims to accelerate rapid adoption and diffusion of patient centric cancer technologies.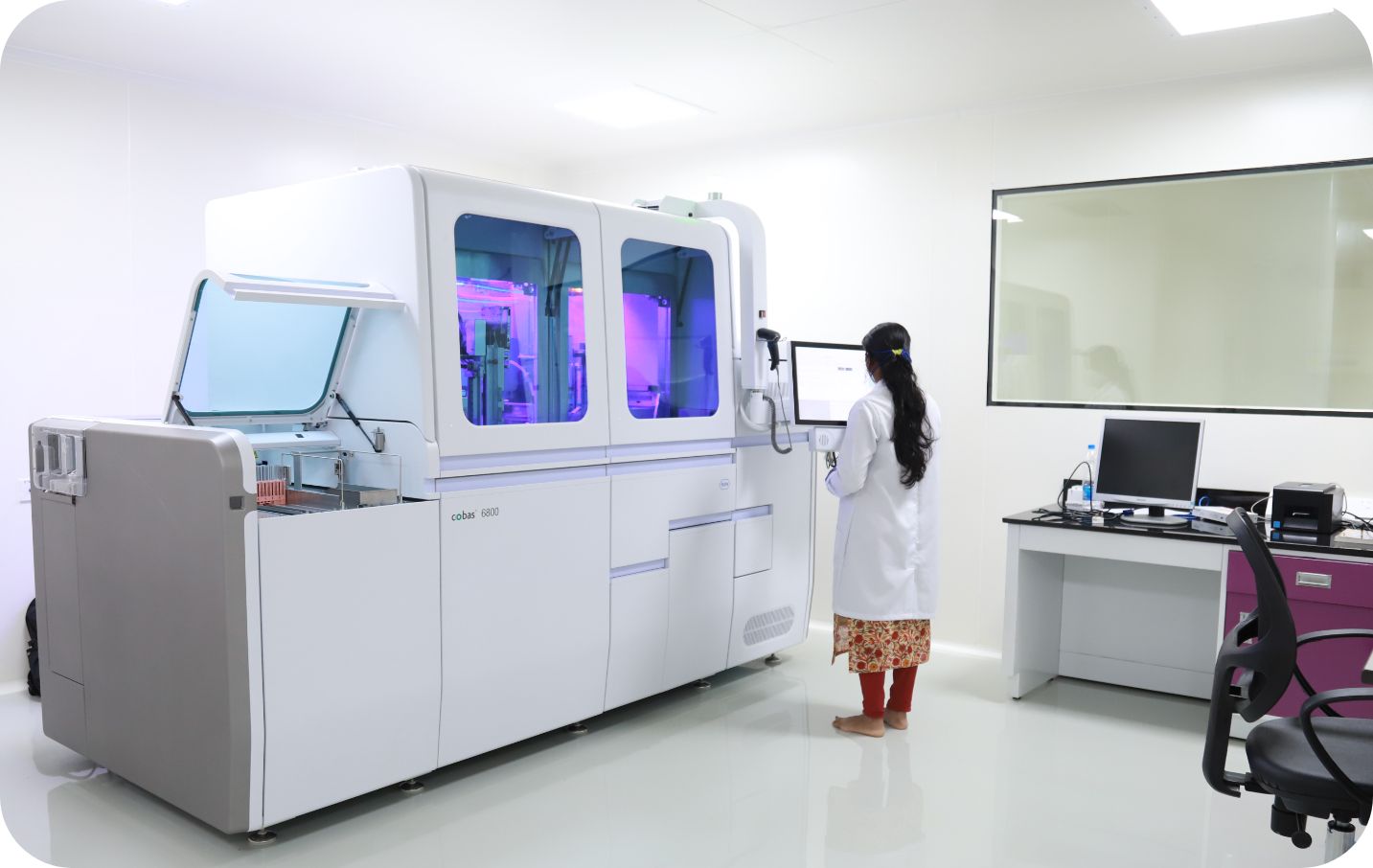 Tissue is key and vital to research and requires maintaining highest possible ethics and regulatory norms, transportation protocols, clinical annotation and digital tacking to retain its usefulness of tissue. Karkinos Healthcare has established such a facility at Kochi. With end-to-end clinical care offerings from identifying high-risk individuals, followed by screening to identifying precancer and early cancer and guidance for cancer patients during treatment, Karkinos Healthcare has access to tissue across the natural evolution and response to interventions. In addition to cancer genomics research, BRIC is also working on developing organoids and ex vivo sample analysis, which helps test drug effectiveness before offering it to the patients, improving the likelihood of success.
Digital Pathology Network: Bringing Expertise Closer
Pathology practice has experienced a sea change with the advent of digital pathology, which includes the acquisition, management, sharing and interpretation of pathology information in a digital environment. The digital slides are created when glass slides are captured within a scanning device, to provide a high-resolution image that can be viewed on a computer screen or mobile device.
Karkinos Healthcare through digital pathology offers: 
Improved Patient Care: Digital pathology has potential to improve patient care and support the pathology workforce by making the diagnosis and monitoring of disease much more efficient, which can be a big boon for patients. Institutional support: Karkinos Healthcare can assist institutions which are challenged on establishing onco-pathology service, through reporting on scanned slides.
Clinician support: Intra operative frozen service can be offered to working surgeons who lack access to such service. More importantly, partners and institutions can benefit from expertise in various oncology subspecialties through Karkinos Healthcare global pathology network. In addition, artificial intelligence and machine learning can help to obtain novel insights which may not be readily obtained by human interpretations. This can be augmented when combined with various other data such as clinical, radiology, genomics information all pooled in the Karkinos Healthcare Data Lake and further subjected to analysis.

Karkinos Healthcare's end-to-end service in cancer care
Karkinos Healthcare, pioneering the Distributed Cancer Care Network model in India has Ratan Tata, Venu Srinivasan, Kris Gopalakrishnan, Ronnie Screwvala, Vijay Shekar Sharma, and Bhavish Agarwal amongst its set of investors. The Tata Group is investing Rs. 110 crores in Karkinos while Rakuten Medical, the global clinical stage biotechnology company, Mayo Clinic and Reliance Digital Health, hold minority stakes. Venture Capital fund Endiya Partners also has a stake in the company.
Karkinos Healthcare has partnered with professional organizations such as Kerala Federation of Obstetrics and Gynaecologic (KFOG) to support the World Health Organization's mission of eliminating cervical cancer by 2030.
Karkinos Healthcare started its oncology services from Idukki district in Kerala from April 2021 and since then has expanded to Ernakulam, Thrissur, Thiruvananthapuram, Malappuram, and Kasaragod. In Kerala, Karkinos has established 11 units in existing multi-specialty hospitals and plans to add 63 more centers by FY23.
Karkinos Healthcare has now expanded to Tamil Nadu, Karnataka, Andhra Pradesh, Telangana, Maharashtra, Madhya Pradesh, West Bengal, Manipur and Delhi NCR and ramping up its operations across India with a target to develop 400 community cancer centers. Despite the pandemic restrictions, Karkinos Healthcare network has risk assessed 1 Lakh+ citizens,15,000 has been deemed high-risk and underwent standardized cancer screening services in its network. The company is a member of National Cancer Grid, a group of 260+ cancer focused institutions. Karkinos Healthcare is also setting up a Cancer Centre in Jawaharlal Nehru Institute of Medical Sciences (JNIMS) premises at Imphal in partnership with the Government of Manipur.