Building a data-powered oncology ecosystem for connected care continuum
By Dr. Anjali Kulkarni, VP Clinical Informatics, Karkinos Healthcare
Cancer is a chronic disease, which means a patient endures the disease anywhere between a few months to a few years and treating the disease during the disease course involves many modalities. Mainstay treatments like chemotherapy could take a minimum of four to six months and it involves a lot of resources, logistics, and financial planning for a patient and their family. In India, the approach towards cancer care delivery is largely archaic marred with several gaps in people not gaining access to timely care owing to many factors (like remote location of the citizen, financial incapacity, late diagnosis, lack of skilled clinicians to seek intervention, insufficient medical infrastructure, etc.).
In such complex situations, digital technologies come as a great leveler in bridging the many gaps in cancer care delivery and enhancing patient experiences. Having previously worked in many health-tech departments like product engineering, regulatory, clinical adoption, and clinical marketing, my experience leads me to design and build digitally-supported solutions that deliver an ace product capable of fulfilling every patient requirement at Karkinos Healthcare. As the company's mission is to not only treat cancer patients but to screen and identify citizens at high risk early on along with creating awareness, early detection, and quick intervention, it is highly imperative to infuse digital technologies at every stage where a patient encounters a screening or a care protocol.
Technology has also enabled healthcare service providers like us to provide care that was previously thought to be impossible. Today, with the aid of digital technologies we can confidently conduct outreach wellness programs targeting wider population groups. Digital infrastructure and insights from health/patient data give us the opportunity to extend services, which were otherwise limited to a specific disease, to provide holistic wellness care plans. I believe that technology can assist in the establishment of a strong digital connect that can assist either citizens or patients throughout the healthcare system for lifelong care.
For best-in-class patient service, leveraging digital technologies
While screening and early detection form the crux of Karkinos Healthcare's mission to improve cancer care in India, the company also intends to make cancer care affordable and more importantly equitable. To achieve these goals, digital technologies are largely leveraged and deployed.
Technology also helps healthcare professionals make use of portable Point of Care (PoC) devices for early detection. These devices are easy to use, handy, and allow remote diagnosis possible while screening for cancers at the community level. At the same time screening questionnaire assessment using e-forms help in categorization (risk-stratification) of high-risk individuals and groups for further testing. Using m-health applications, the data from screening can be easily captured and stored and acted upon by clinicians to make informed decisions.
Digital revolution has also caused technologies to be strategically deployed to build and maintain Electronic Health Records (EHRs), laboratory information systems, citizen/patient/clinician applications, and to make healthcare systems more interoperable and resilient. Digital systems have the power to reduce unnecessary investigations/interventions because EHRs help provide accurate, up-to-date, and complete information about patients at the point of care. Moreover EHRs, being a digital version of a patient's medical information chart, makes patient information readily available for quick treatment decisions.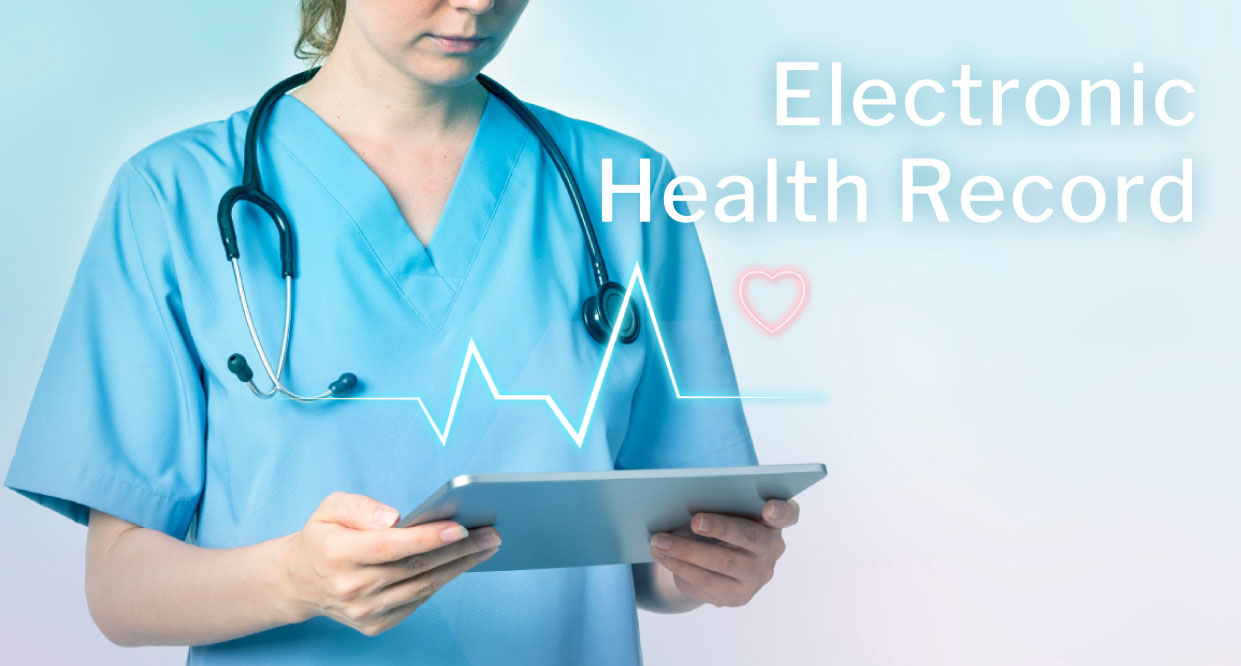 It is now an established fact that health data forms the backbone of healthcare services and data analytics has the potential to transform the way healthcare providers use sophisticated technologies to gain insight from their clinical and other data repositories and to make informed decisions. To give an example, the U.S. Healthcare Alliance Network has more than 2,700 members, hospitals and health systems, 90,000 non-acute facilities and 400,000 physicians and is reported to have data on approximately one in four patients discharged from hospitals. Naturally, the network has assembled a large database of clinical, financial, patient, and supply chain data, with which the network has generated comprehensive and comparable clinical outcome measures, resource utilization reports, and transaction level cost data. These outputs have informed decision-making capabilities and has apparently improved the healthcare processes at approximately 330 hospitals, saving an estimated 29,000 lives and reducing healthcare spending by nearly $7 billion (source: https://www.ncbi.nlm.nih.gov/pmc/articles/PMC4341817/).
Another major advantage leveraged from electronic medical records is the availability of patient data across systems that can help them seek treatment closer to their homes avoiding long distance travel, cutting cost, and saving time for the patient. In times like the pandemic, when social distancing and lockdowns are enforced, online consultations, appointment tracking, and hospital visits can be managed over digital platforms.
With the help of effective technology interventions like post-treatment follow-up, care using m-health applications or virtual consultations, patients can be managed at home for any early treatment and related intervention. Triaging patients also becomes easy over digital platforms.
Technologies allow protocols to be accessed in the form of structured workflows. For example, Karkinos Healthcare's care delivery centers are connected seamlessly with partner hospitals, diagnostic centers, day care chemotherapy centers and Apex/referral centers to ensure the patient is connected to the right intervention, receives expert advice, and is led to proper care in an informed manner at every stage of the treatment journey.
In delivering healthcare solutions, it is a must for us to establish standardization in processes. Karkinos Healthcare believes in setting an excellent set of standardized protocols that help us realize the company's vision of affordable and equitable cancer care. As standardization of care is core to Karkinos Healthcare's cancer care model, we lay impetus on standardizing the diagnostic protocols, care plans, patient navigation, and follow-up protocols. We are training all our healthcare teams to achieve these goal-specific tasks that shape a sustainable cancer care service. In order to achieve our goals, the company relies on new-age technologies necessary for the process standardization. These standard protocols, available on digital platforms, also give confidence to junior clinicians to execute cancer care protocols and take care of acute or subacute toxicities in a proficient manner, bringing about faster resolutions and treatment interventions.
Digitally-enabled solutions based on electronically captured data from digital pathology, radiology information systems are automated and integrated with digital applications to ensure that every stakeholder in the system like the clinician, nurse, technician, etc. will be prompted to follow protocols and any deviation will be captured in the system. Data is also centrally stored for easy retrieval and analytics capability.
Nowadays, Information Technology provides opportunities in several ways to connect with a large patient population. Social media and internet-based messenger platforms are extensively relied upon to connect the service provider and the patient in innumerous ways, especially at the right time no matter the location. Today, information on community cancer screening activities is disseminated to wider populations by leveraging these social media platforms and at the same time these social media platforms are exploited to spread the awareness on cancer and its consequences in a location agnostic way. Karkinos Healthcare, undoubtedly, has put in place active social media channels that create the two-way communication between a patient and the healthcare system in a seamless fashion.
To achieve and deliver all these technology backed solutions, Karkinos Healthcare's platform is being built as a robust, open architecture model that will be easy to use, integrate, and create patient-friendly solutions.
Tech to deliver personalized treatment
This is the era of personalized or precision medicine. Today, healthcare services are highly patient-centered, based on a digitally-led model. These digital models support and map personalized treatment, which considers a patient's individual parameters like genomic markers, clinical factors, ethnicity, and other vital parameters. In personalized medicine, the treatment protocol can also be tailored depending on the stage of cancer, comorbidities, habits, and tumor characteristics. As the EHRs capture and store all data related to the patient, personalized medicine is rather infused into the care continuum throughout the journey of the patient undergoing care, be it during the course of the treatment or during the follow-up that can take place in future consultations. Karkinos Healthcare, from the word go, is implementing solutions that can build personalized care.
Also, at Karkinos Healthcare, our systems are dynamically designed to constantly improve healthcare services based on patient reported outcomes. As a service provider we understand that every cancer patient responds differently to the treatment regimen and hence our proprietary patient-centered model scales up to cater to the patient at every stage of wellness and treatment.
Since, cancer is a chronic disease, the chances of recurrence at any point in life is possible. In case of recurrence or further spread of cancer at a later time, it is very important to know previous diagnostic conditions, history, and treatment details. EHR is a big blessing here to ensure that the continuity in personalized attention to the patient is never lost. So, at Karkinos Healthcare, we are designing digital solutions where patients can report outcomes that can be tracked. This will help us modify our treatment protocols and train our care teams on a case-to-case basis.
Additionally, it is not only about cancer as a disease but dietary, psychosocial, and occupational needs of a patient have to be integrated as part of the care plan. "Quality of Life" is a very important parameter and we at Karkinos Healthcare are committed to providing best quality care and rehabilitation to every cancer patient even after treatment is completed.
A dynamic oncology data platform powered by Artificial Intelligence
The technology implementation department at Karkinos Healthcare is completely aware of the advantages of developing Artificial Intelligence (AI) based solutions in clinical decision support systems. So, we are building AI solutions for all the stakeholders in the healthcare ecosystem like clinicians, Para clinicians, pathologists, hospital administrators, research communities, and patients. Also, we are ensuring that the digital platform provides us the scope to bring in external stakeholders seamlessly into our system. This is a requisite for Karkinos Healthcare as our business model involves partnering with existing healthcare service providers and other stakeholders who are directly or indirectly offering cancer care.
The main advantage of such systems is that they do not carry any bias in decision making as humans do. They are consistent across and reduce any factor related to human fatigue or resource shortage. For any rare, borderline or complex cases AI-based systems can provide additional view for a clinician to make a decision and also AI systems are very helpful for clinicians to keep track of guidelines and vast amounts of medical literature that gets published every day.
The data teams, here at Karkinos Healthcare, are therefore curating, analyzing, and creating insights using large amounts of retrospective cancer data. We have the requisite expertise in extracting and labelling unstructured clinical notes to form structured notes that help the onco-physicians deduce a personalized treatment pathway for a patient. Karkinos Healthcare is, therefore, instrumental in creating an "Oncology Data Model" that is mainly based on India specific oncology protocols. In simple terms, Karkinos Healthcare is building models that will be mainly descriptive but also prescriptive in future.
It should also be borne in mind that to make the model patient centric, digital solutions must be clinically adopted by the onco-physicians. Engagement with end users by the oncologists (who may not be technology savvy) should not be a challenge. Identifying pain points at the physicians' end and developing tech-backed solutions in care delivery is very important to create an end-to-end holistic digital platform. Therefore, Karkinos Healthcare will close the loops and bridge the gaps wherever needed to provide a focused approach to cancer care.
In summary, our vision at Karkinos Healthcare is to develop a best-in-class "Oncology Data Platform" targeting cancer care to be delivered at a global level, and to stay committed in reducing the cancer morbidity and mortality levels not only in India but in all countries where we can redefine cancer care in a meaningful way.
About Dr. Anjali Kulkarni
Dr. Kulkarni is a qualified oncologist with 20 years of total experience in Healthcare delivery, Healthcare IT, Medical device, Life sciences, Biotech, Imaging and AI solutions catering to public and private health systems. 
She is a Consultant with broad experience in healthcare service transformation leveraging existing implemented solutions to achieve better performance and outcomes. She has worked across many clinical specialties like Oncology, Cardiology, Neurology, Interventional Radiology, Genetics and Molecular pathology. Competency in data science as data collection, data analysis and analytics with understanding of cloud-based healthcare offerings and using technologies like IoMT and real-world concept are her expertise.
Dr. Kulkarni has the ability to work in complex client environments with proactive mindset to identify opportunities and make recommendations. She has worked with various stakeholders like CEO, CMO , CIO and policy makers and investors for collaborations and adoption.