Re-imagining cancer care — Developing a self-sustainable model to offer high quality cancer care
By Venkataramani Suresh, Co-Founder and CBO, Karkinos Healthcare
Solving problems at scale needs out of the box thinking and innovative solutions leveraging technology. Oncology too requires this as conventional methods, globally, have not made any impact on reducing cancer incidences. 
As per the latest report from FICCI and E&Y, India is estimated to report 1.9 to 2 million cases in the year 2022 whereas the real incidences are 1.5 to 3 times higher, and we do not have the requisite infrastructure to address these issues. The World Health Organisation warns that global cancer rates could rise by 60% over the next 20 years unless cancer diagnosis and management is ramped up in low and middle-income countries. We are, therefore, at the cusp of a problem waiting to explode if not addressed immediately.
The need of the hour, in my view, is re-imagining our approach and the uberisation of cancer care. It is no longer about setting up new hospitals to tackle the overwhelming number of cancer patients. The need is to demystify all assumptions and the taboos around cancer, create an awareness on the need for early detection and screening. 
The call of action is to bring about a behavioural shift from reactive to proactive care. Holistic and sustainable solutions to address the cancer burden lie at the intersection of behavioural science, clinical expertise, technology led innovation & financially prudent viable business models. When we know that early cancer detection increases the probability of survival with an obvious financial advantage, all efforts should be channelised to make prevention supersede approaches in reducing cancer incidences. Hence, early detection is the fundamental driving principle and the core at Karkinos Healthcare. 
In my previous role at Naukri.com, using technology, my team and I were successful in democratising jobs that benefited millions of jobseekers across the globe. Similarly, at Karkinos we are leveraging cutting edge technologies to democratise cancer care. 
In our journey, focusing on Wellness over Illness, our approach is based on the 4D model of Detection, Diagnosis, Delivery and Data /Insights. Karkinos is a technology-led oncology platform with a mission to build and offer personalised cancer care solutions. The company, led by a blend of globally acclaimed medical professionals and technologists, is on a mission to provide high-quality cancer care closer to one's home and to ensure no person is deprived of care for want of access or affordability. Karkinos Healthcare has an early mover advantage in cancer care and offers a unique value proposition backed by over three hundred years of combined clinical expertise.
Taking the employee wellness route to drive early detection
Given the digital penetration, technology adoption post Covid, and a rejuvenated focus on employee's health and wellness, we at Karkinos Healthcare sensed the importance and need to launch a Comprehensive Early Detection Programme for Non-Communicable Diseases (NCDs) including common forms of cancer viz, Breast, Cervical, Lung, Colorectal, Prostate and Oral.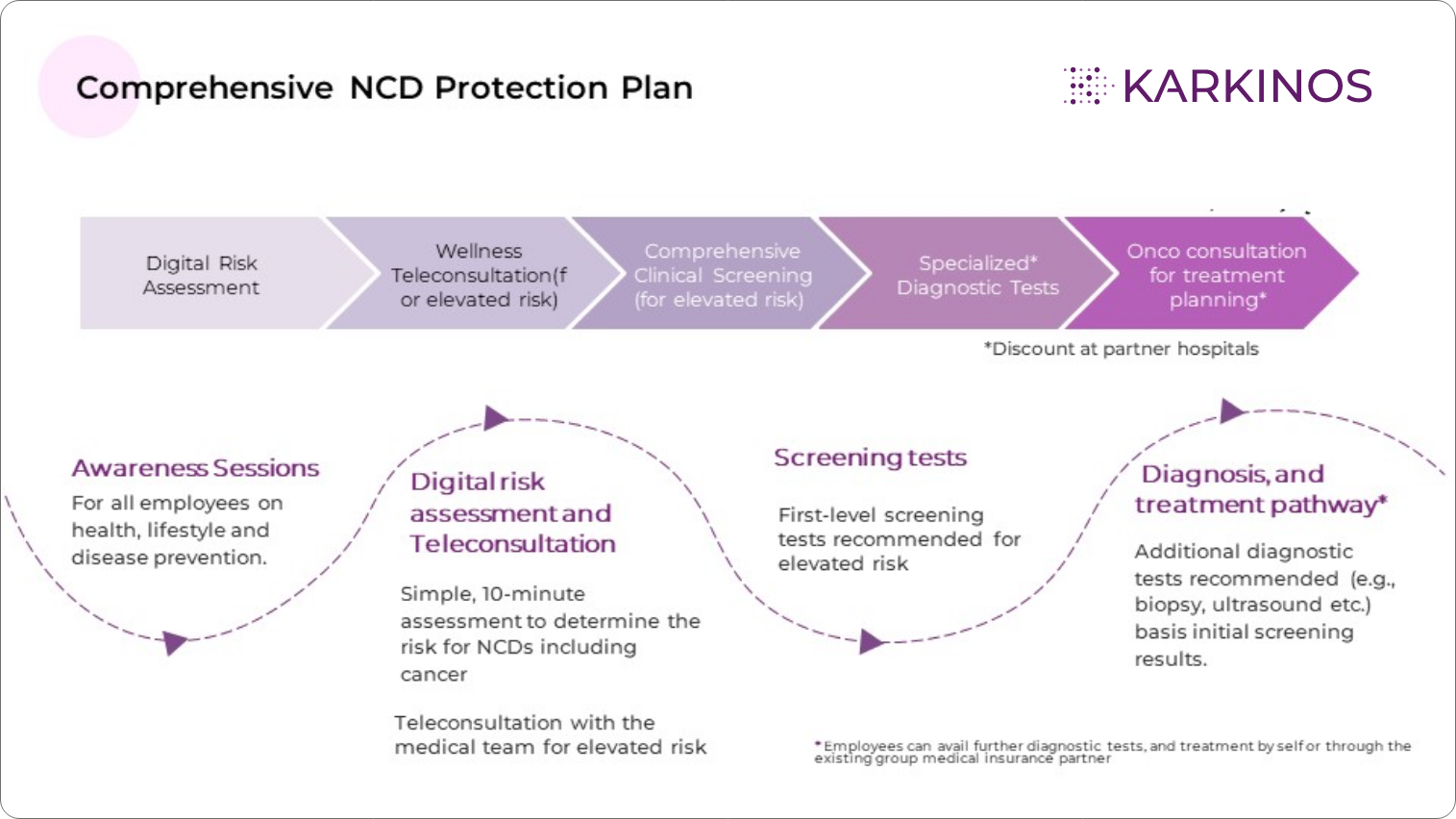 Karkinos' digital-first approach, the user friendly on-line risk assessment, technology enabled Command Center that navigates members with elevated risk through the sequential steps, an end-to-end care continuum and our multi-disciplinary team of globally-renowned expert oncologists, impressed upon various corporates in the banking, automobile, power, IT, ITES, manufacturing, etc., to subscribe for the early detection programmes. 
So far over 50,000 plus white collar and blue-collar employees have gone through our programmes. As employees are covered by medical insurance for subsequent treatment, they are witnessing a direct impact on their out-of-pocket medical expenses through these programmes.
As part of the Comprehensive NCD/Cancer protection plan for the corporates, the employees go through an awareness session anchored by an expert oncologist on the need and impact of early detection that encourage them to participate in these programmes, which are driven by their HR/Employee engagement teams. 
Post the awareness session all the employees get themselves assessed for risks for NCD including common forms of cancer by filling up the Digital Risk Assessment Forms, which has a short questionnaire on cancer predisposing factors. The forms get circulated through the HR departments of the respective companies. The filled-out forms are carefully assessed by Karkinos' medical experts.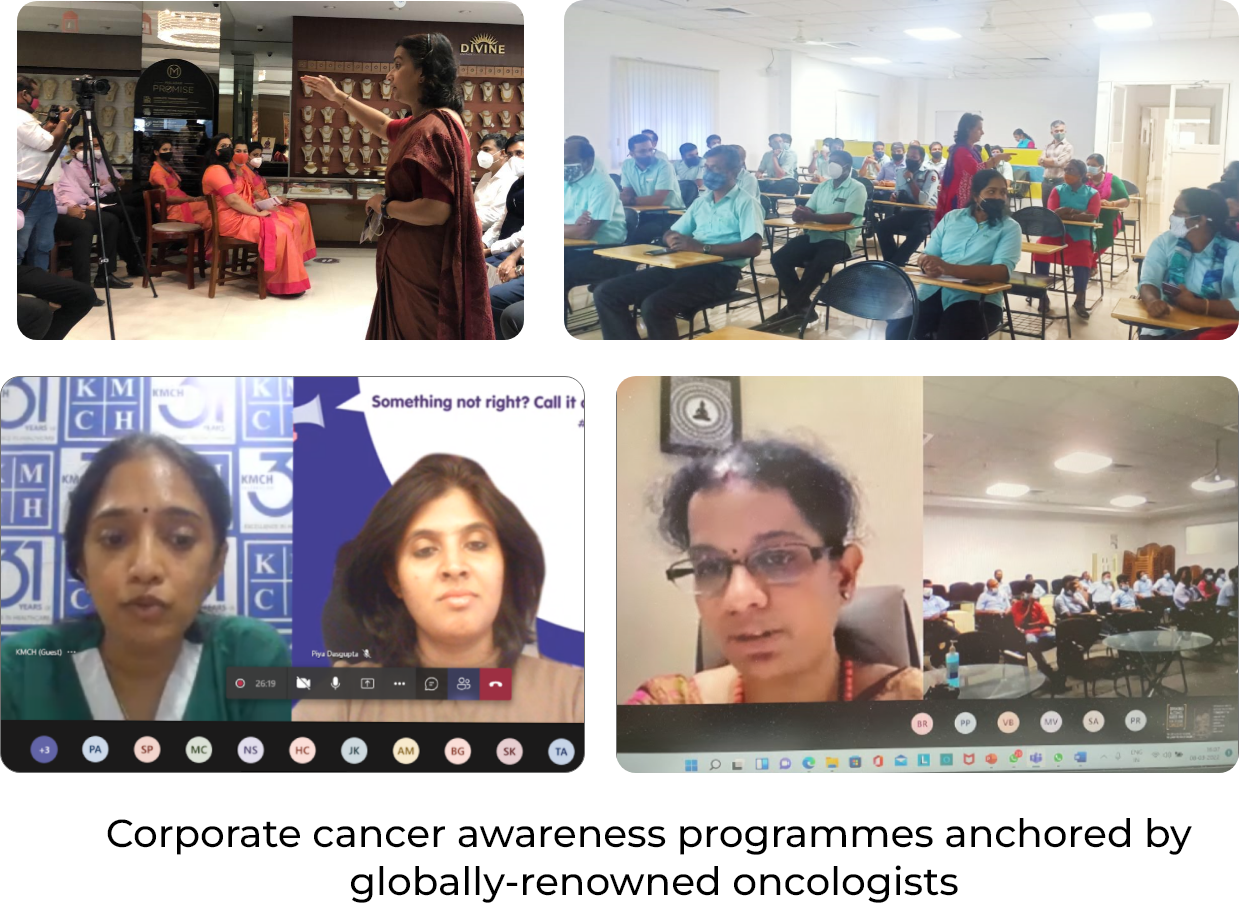 Tele-consultation is organised for employees who are at an elevated risk for developing cancer in his/her lifetime and next steps for diagnosis/treatment are recommended. The entire process of screening, examination and care is routed through Karkinos' proprietary Command Center, which is the nerve center of Karkinos' Distributed Cancer Care Network. The Command Center ensures that nobody drops out from the process of care.
Tangible success of these initiatives has been felt as we were able to navigate many high-risk individuals to their nearest Karkinos' partner hospitals irrespective of the city or state in India. So, our ability to identify high risk patients early, navigating them to appropriate care turned out to be a good value proposition. 
Many organisations are highly appreciative of this service, and they feel that giving their employees an end-to-end care will have a positive impact on their businesses. As more and more enterprises adopt this model, we can make a significant contribution in bringing down the cancer incidence of the country. Hence, the employee wellness route for cancer awareness/screening is a long-term self-sustainable model that Karkinos is keen on implementing in our country as well as overseas.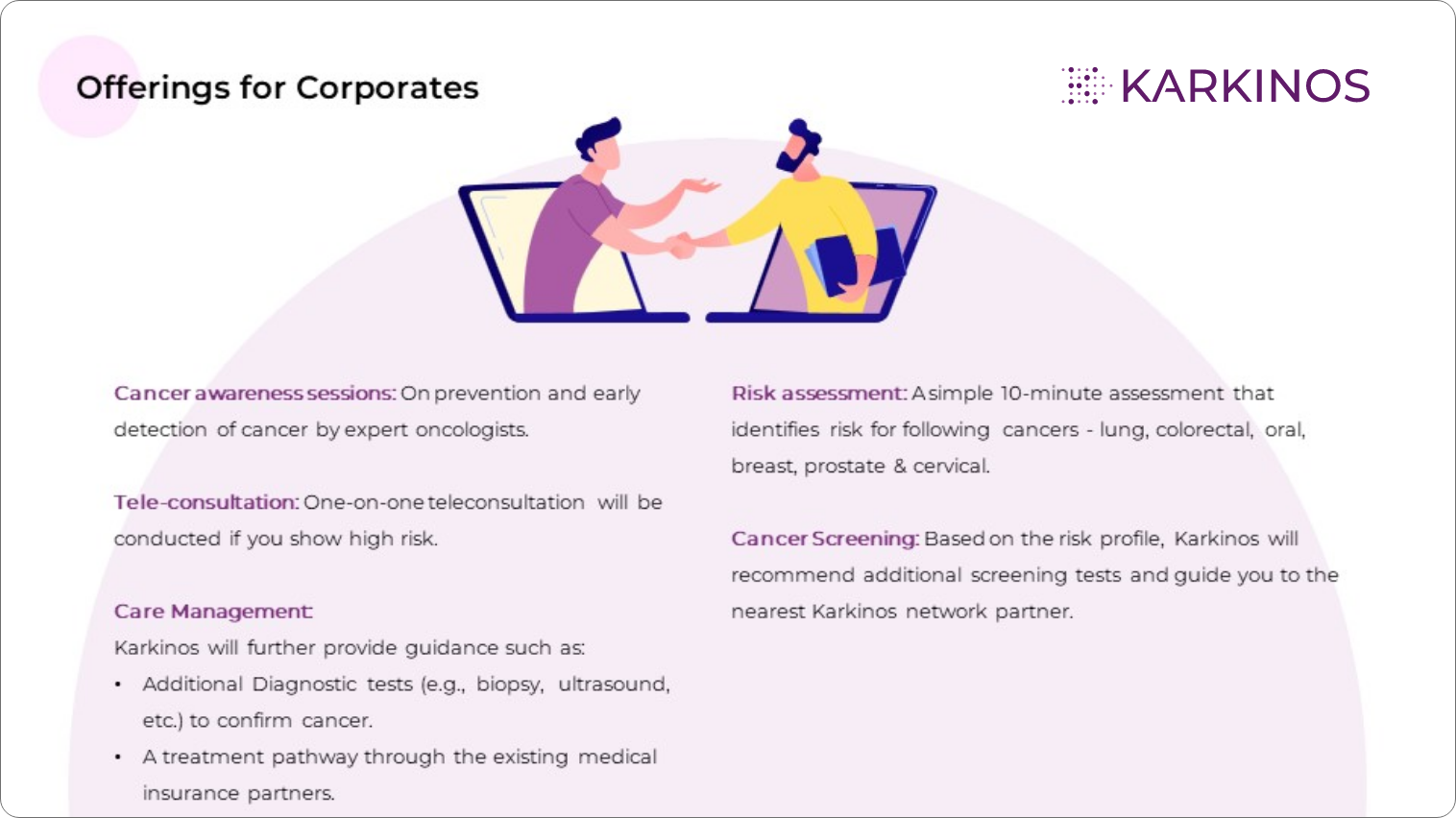 Apart from addressing the cancer burden of employees through a corporate programme, we felt the need for empowering asymptomatic people, who may be working in the unorganised sector and who may not have access to group medical insurance etc. This led to the launch of a comprehensive Cancer Suraksha Program. As a part of this programme, we partner with platforms where a large volume of consumers engage in businesses and we embed the Karkinos Digital Risk Assessment along with an existing transaction. 
This plan turned out to be a breakthrough, where we targeted a section of the population that was completely ignorant about prioritising their health and wellness and especially paying heed to their susceptibility to cancer. The vast majority of this population are at an elevated risk as they consume tobacco and alcohol, and they definitely need assistance and care. We bundled our 'Cancer Suraksha Programme' with one of the leading automobile majors and so far about 60,000 members have benefitted from this service.
With efforts of this scale, Karkinos Healthcare has ushered in the awareness on preventing cancer and a sense of urgency in mitigating cancer on a war footing. We have also successfully conducted awareness programmes over webinars. Around 50,000 people have attended these webinars and are now convinced about the benefits of preventing cancer at an early stage and taking up an e-risk assessment test periodically.
Partnering with diverse healthcare service providers for distributed care
Comprehensive, technology-led, managed care oncology platform can play a vital role in creating a positive impact on the holistic cancer management landscape in India. The philosophy of distributed cancer care, which is at the core of Karkinos, believes in decoupling the knowledge and the delivery of cancer care. As against the conventional systems, a super speciality hospital need not be the first touch point for detection of early-stage signs or symptoms of cancer.
When I say decoupling the knowledge of cancer care, it involves uniform dissemination of the knowledge about self-examination tests of common cancers (like breast, oral cancers). The knowledge of certain visible cancer symptoms needs to be made available to the public for early detection of cancer. A lump in the breast or a prolonged ulcer in the mouth must prompt an individual to approach the nearest physician for a detailed examination.
Societies need such knowledge that can create awareness on cancer risk factors and symptoms to watch out for. To bring about this awareness, Karkinos Healthcare is partnering with several Public Health organisations, NGOs, etc. to spread the message on the benefits of early detection. 
To enable this uniform knowledge sharing, Karkinos Healthcare has developed various digital applications that can be accessed by the entire chain of healthcare ecosystem viz., healthcare workers, doctors, and patients. These digital tools offer extensive services that bring about a phygital construct in care delivery. Be it teleconsultations, virtual tumour boards, Karkinos Healthcare has attempted to cover the entire spectrum of service using technology.
How scalable is Karkinos' cancer care model?
Karkinos' distributed cancer care model has been well planned and executed to perfection over the past 2 years. Organisations are convinced that a healthy balance sheet can be maintained only when their employees (who are their primary assets) lead a healthy life. In the area of employee wellness, I see an exponential demand for our Comprehensive NCD & Cancer protection plans.
Our model will have scope for several iterations that will only improve the access and affordability of cancer care going forward. Karkinos' partnerships with globally acclaimed organisations of repute viz. Mayo Clinic, IIT-Chennai & IIT-Guwahati are all placing Karkinos Healthcare into an academically backed, research-based end to end oncology platform. Mayo and IITs are all knowledge powerhouses that can lead Karkinos in charting validated cancer care pathways.
After having spent over 25 years in corporate life, having built an internet startup from scratch to getting it listed, managed a top-line of over 125 million US dollars, being an investor and Co-Founder of Karkinos, I can conclusively say that our approach to cancer care is highly scalable & disease agnostic.
We have embarked on the journey to bring a paradigm shift from illness to wellness and I am confident that Karkinos will be a major force to reckon with in the global oncology landscape in the years to come.
About Venkataramani Suresh
Suresh is an Alumnus of The Wharton Business School, Pennsylvania. He is a Graduate in Instrumentation and Control Engineering with an MBA from Sri Sathya Sai Institute of Higher Learning.
A Passionate Leader with an excellent record of building India's No.1 Jobsite Naukri.com from scratch to getting it listed in India & he is known for delivering consistent results through high performing teams.
He currently serves on the boards of few Business Schools as an academic advisor and is a renowned speaker in many B-Schools and HR forums like that of NASSCOM, CII across India and GCC countries. He was recently awarded as one among "Top 10 Chief Business Officer-2022" by CEO Insights Magazine.