Oral Cancer: An oncologist's report from Varanasi
By Dr. Manish Tiwari, Consultant – Head and Neck Oncosurgeon, Karkinos Healthcare, Varanasi
The World Health Organization estimates that the incidence of oral cancer will increase 50.7% from 2020 to 2040 1. The projected incidence of oral cavity cancer has been estimated to be 1 in 60 people. 
A major cause of mortality in head and neck cancer is because of the presentation of the disease in very late untreatable stages. As per NCRP 2020 data, 75% of head and neck cancers are presented in the late stage and only 25% of patients report in early stages (locoregional disease) (2). Healthcare communities from around the world also need to identify and address the barriers that lead to disproportionate care services.
Oral Cancer scenario in Varanasi district
In Varanasi, as per PBCR's data, oral cavity is the leading cancer site in males accounting for approximately 40% of all cancers, while in females it accounts for 6%, with breast being the most common site (26%). Out of every 3 cancer cases, 1 case is of mouth cancer. 1 in 48 males is at risk of developing mouth cancer in the district. The incidence rate of cancers is 38% more in urban areas (22.4 per 100,000 population) when compared to rural areas (3). This difference may be attributed to lifestyle, food habits and more diagnosis due to easy reach to healthcare facilities.
Oral cancer is a malignant disease of the mouth affecting part of tongue, inner cheek, upper and lower jaws. It forms mostly because of excessive exposure of the oral mucosa to carcinogenic substances. 
The most common causes differ from place to place, but at Varanasi the key causes are chewing tobacco (khaini/Surti) and betel nuts. Findings say that the risk of oral cancer in people who consume both alcohol and tobacco are at 8 times higher risk than those who don't consume both. Smoking cigarettes and bidi and chewing supari or pan are equally harmful. Few other causes include HPV Virus, chronic irritation related to sharp teeth, ill fitting dentures.
Why is early detection crucial?
Because the early stages of oral cancer are initially painless and asymptomatic, it is very challenging to diagnose them. Even after completing all feasible therapies and adhering to international guidelines, the likelihood of success (five-year survival) is rather low. Many of the cancer victims die owing to a high degree of deformity and pain. Few patients who are initially cured experience cancer recurrence at a later age.
What are early signs of oral cancer?
Oral cancers are usually preceded by precancerous lesions long before they turn malignant. These precancer lesions (early signs) present themselves as white (Leukoplakia) or red lesions (Erythroplakia), burning sensation in mouth (Lichen Planus), reduction in mouth opening (Oral Submucous Fibrosis) and non healing ulcers that affect a person for more than 14 days. 
Once there is cancer/ malignancy one can see irregular growth/ wound/ non-healing ulcer in mouth, part of face and there can be swelling of the neck lymph nodes too.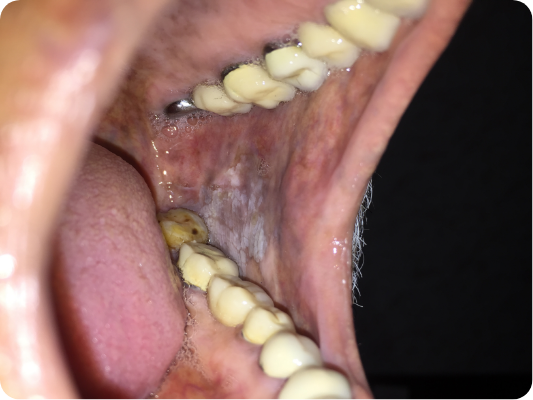 Leukoplakia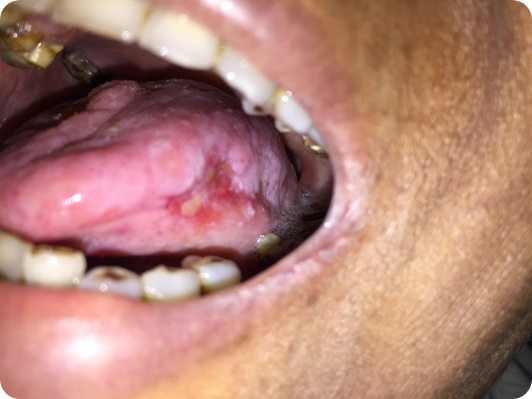 Erythroplakia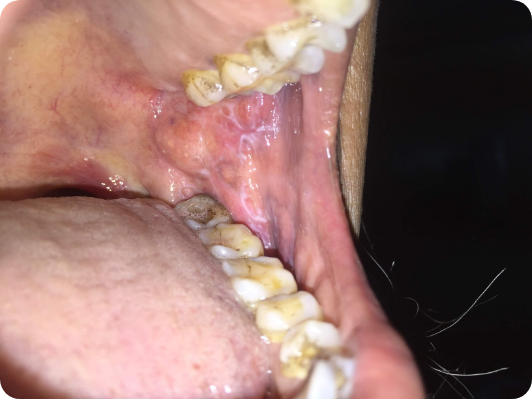 Oral Lichen Planus
Cancer of tongue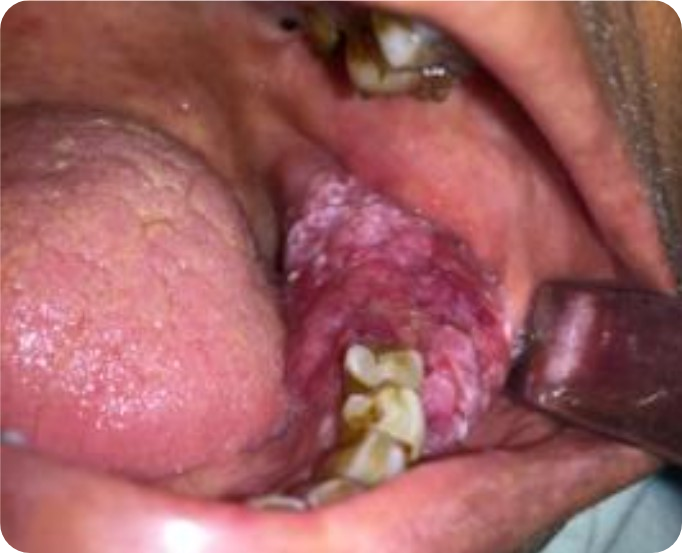 Cancer of lower jaw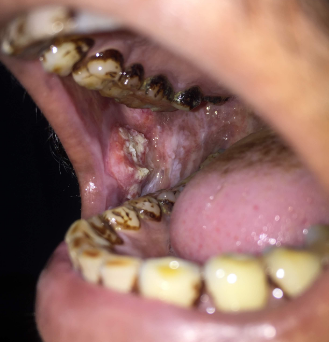 Cancer of inner cheek
Diagnosis of oral cancer
Diagnosis of oral cancers is usually done by visual examination, this is a very cost-effective method of diagnosing oral cancers. To confirm the clinical diagnosis the doctor does a biopsy, which is to take a small piece of the affected region of the mouth by administering local anesthesia and examining it under a microscope. If cancer diagnosis is confirmed the patient might need further investigations like CT scan, MRI, or PET scan.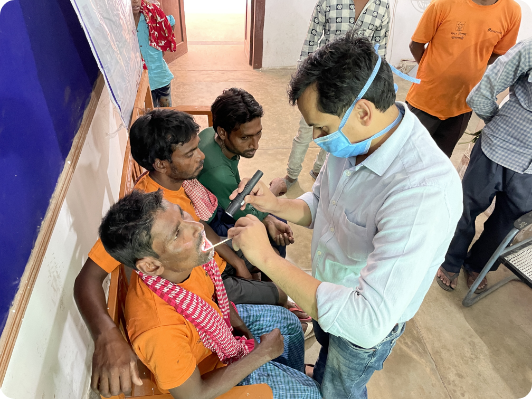 Visual screening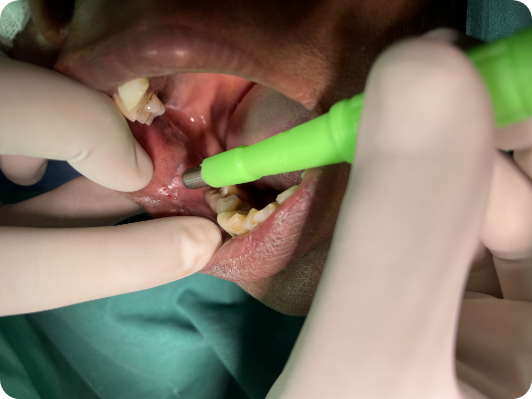 Biopsy
Treatment
Surgery is the key treatment followed by adjuvant treatments like radiation & chemotherapy in advanced cases.
How to prevent?
Habit prevention, Early diagnosis, Early treatment is the key. 2 minutes of self examination habits can save one's life. One should report to oncologists for any white or red patch or painless ulcers.
What are chances of cure?
Cure completely depends on the timing of the diagnosis. Oral cancers can be cured if diagnosed early. With active participation from both the public and doctors, we can win this war.
What are the challenges in screening oral cancer?
Patients concerns

Fear of anticipated Financial crisis;

Fear of cancer suffering;

Difficulty to quit the habits that can cause cancer;

Casual approach with use of tobacco related products (gul manjan-tobacco containing tooth powder, pan masala, etc.);

Lack of trained manpower

Dentists not confident of high risk features of oral premalignant disorders

Asha workers who have inadequate competency for diagnosis of oral cancers/precancers; and

Bad habits started during adolescent age.
What are the possible solutions?
Health education in schools –

Targeting youth specifically. spreading awareness at primary school level on harmful effects of tobacco use;

Education/awareness programs for various sectors, corporate organizations;

App based screening, enrolment on technological platforms for regular screening updates;

Training program for manpower. Certificate courses for General practitioners, dentists, ASHA workers, regular enrollment on tech platforms; and 

Media outreach- social media based awareness campaigns. 
A multidisciplinary approach to oral cancer, including awareness programs, preventive measures, screening programs for early detection, and availability of treatment facilities, can greatly reduce both incidence and mortality of Oral cancer patients.
References:
Ascopubs.org. 2022. Cancer Statistics, 2020: Report From National Cancer Registry Programme, India | JCO Global Oncology. [online] Available at: <https://ascopubs.org/doi/full/10.1200/GO.20.00122#:~:text=The%20projected%20incidence%20of%20patients%20with%20cancer%20in%20India%20among,of%20age%3B%20Table%202).> [Accessed 5 September 2022].

Mathur, P., Sathishkumar, K., Chaturvedi, M., Das, P., Sudarshan, K., Santhappan, S., Nallasamy, V., John, A., Narasimhan, S. and Roselind, F., 2020. Cancer Statistics, 2020: Report From National Cancer Registry Programme, India. JCO Global Oncology, (6), pp.1063-1075.

Badwe et. al.

Cancer Incidence and Mortality in Varanasi District, Uttar Pradesh State, India: First year report of the Population based Cancer Registry. 2017.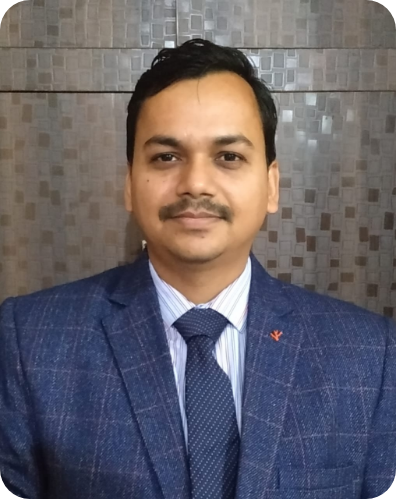 About Dr. Manish S. Tiwari
Head and Neck Oncosurgeon, Fellowship in Oral Oncology, Microvascular surgery Dr. Manish Tiwari is a Consultant, Head and Neck Oncosurgeon and Microvascular Reconstructive Surgeon at Karkinos Healthcare. His interests are in early detection and management of Oral Cancers. Dr. Tiwari has vast clinical experience from esteemed cancer centers like Prince Ali Khan Hospital, Mumbai; Mazumdar Shaw Cancer Center, Bangalore; Park Clinic, Kolkata, to name a few. He has multiple national and international papers to his credit, member of editorial boards of multiple international journals.
He is actively leading the m-health based screening program in Varanasi's high-risk population, and the data is also being collected for genomics understanding. He is also an Honorary Fellow of the Department of Head and Neck Surgery at Mahamana Pandit Madan Mohan Malviya Cancer Center, Varanasi.