Karkinos Platform: Integrating Fragmented Cancer Care Continuum
By Raja Sekhar Kommu, Co-Founder and CTO, Karkinos Healthcare
What purpose does technology have when it cannot serve mankind? In my 25+ years of experience in IT, I have witnessed the rise and fall of several disruptions across many industrial verticals, right from the pre-Internet era to the current AI-led Software-as-a-Service era. In all these years, my experience convinces me that technology development must be very purpose oriented. After all, what use is a fountain pen invention for use in spaceships if the work can get done equally well by a pencil?
When I say purpose oriented, I mean that solutions addressing original problem statements need to be efficiently developed, and technology must support the development of those solutions. This is very true with introducing technology in healthcare, where the problem statements are immense. A generational shift in the approach to care is currently needed, but the healthcare industry is extremely slow-paced in tech adoption. The industry is markedly a couple of decades behind in terms of tech adoption. And it is obvious that the COVID-19 pandemic has compelled the industry to fast track the shift in tech adoption. Therefore, for healthcare, I believe that it is important to create a blueprint of a platform that would still be relevant 7 to 10 years from now and work backwards on its design.
Fragmented cancer care continuum – An apathy
Cancer is not like any other disease. It's quite complex and demands a multi-disciplinary team to diagnose and treat. Care continuum in a country like India is absolutely fragmented when it comes to cancer. Several mismatches like the oncologist to patient ratio; diagnostic and treatment centers' unavailability for the large volume of cancer patients; lack of basic cancer screening programs; and many other gaps exacerbate the burden of cancer in India.
I have personally seen the suffering of cancer patients (in my family as well as at hospitals). Not only the cancer inflicted person undergoes tremendous agony, but the immediate family members are put through several hardships – mentally, physically, and financially. The scenes outside Tata Memorial Hospital and other cancer hospitals are heart wrenching. Such scenes gave me a strong sense that technology for healthcare must be 100% purpose oriented. If technology deployment can bring about a major life-saving difference to even one person, then channelizing efforts in that direction becomes purposeful.
In India, the gaping gaps in cancer care are astounding. A major portion of the population, including those in the medical community, are not aware of the need to go for a periodic cancer check-up and the options available for such. As cancer incidence is alarmingly rising in the country, the resources – in terms of medical infrastructure and clinical expertise to diagnose and treat – are not keeping pace with the volume.
It is not only the demand and supply that needs a fix, but the main issue lies in the lack of proper systems to screen and diagnose cancer early at a population scale. We have proven studies to show that cancer presented to a physician at early stages (Stage I or II) has better, cost-effective treatment outcomes when compared to late-stage presentation (Stage III and IV). 
In India, the majority of cancer cases are presented only at late stages, where treatment is challenging and the costs incurred are 4-5 times higher. Even if someone is aware and gets detected early, accessibility to diagnostics and treatment is still a significant challenge. Majority of the population cannot access cancer diagnosis and treatment at places where they live. This has a direct impact on out of pocket expenses leading to drop off rates that in turn leads to delayed treatment and advancement of disease to next stages leading to poor patient outcomes. In addition, financial incapacity, social stigmas, misleading myths associated with cancer, and other socio-economic factors also contribute to late diagnosis and poor outcomes. Only a network of care providers connected to a central hub of care can bring about a difference, where all patient touch points can be mapped. 
The only way to address the gaps is through building and executing digital-first constructs in care. This very need led to the inception of Karkinos Healthcare, which was founded with a vision to bring a digital-first construct in cancer care. While forming the company, the founding team were clear on redefining cancer care in India to decouple knowledge of cancer care from delivery of cancer care through technology – An oncology platform that binds the fragmented cancer care into a network. 

Connecting the dots – Integrating the care
The number of touchpoints (clinicians, labs, hospitals, payors) that a typical cancer patient has to go through in their journey is very high. More often than not these touch points are fragmented and distributed. Patients struggle to understand the next step for them in their treatment pathway – and no one entity in the pathway has a complete picture of the outcome at each touch point. This fragmented and distributed nature of this pathway ultimately leads to increased expenses and poor outcomes. 
Karkinos Platform acts like the glue that integrates all these touch points – creating a Distributed Cancer Care Network – a platform that connects an NGO personnel doing a cancer risk assessment at doorstep of a citizen, a trained  technician doing a mammogram in a mobile camp unit, a molecular biologist doing genome sequencing in a lab, a physician administering chemotherapy at a daycare center, a medical physicist doing radiation therapy planning, an oncologist prescribing the next step of treatment, an expert participating in a molecular tumor board remotely and most importantly the patient herself – everyone having one single and relevant view of the information that enables them to effectively do their respective work.
Karkinos Platform is conceived to enable interoperability by design, evolve an integration ecosystem, to execute at population scale, to separate data from application and further separate application from user experience, which caters to both clinical and research – ultimately helping to achieve better outcomes for patients.
The promise of the platform
It is my strong belief that the platform can be a critical enabler in addressing the challenges in awareness, access, affordability, and quality of cancer care. Technology intervention, starting from  cancer risk assessment, screening and at every patient touch point throughout the patient journey can be used to effectively bridge gaps between care provider and care seeker, ensuring that no one gets dropped out either due to lack of access or affordability of care.
In the course of powering the Distributed Cancer Care Network, Karkinos Platform gathers data that will be incrementally refreshed as patients continue their healthcare journey and as more data is added to their longitudinal medical record. Karkinos Platform has access to continually expanding data with near real-time information that enables discovery of actionable insights by applying cutting-edge Artificial Intelligence and Machine Learning Algorithms.
Therefore, Karkinos Platform, driving data driven evidence based distributed cancer care models, can change the paradigm of care ranging from provider centric to patient centric, from cure to prevention, from reactive to proactive treatment, from hospital visit to home care, from episodic to continuous care, and from illness to wellness – hopefully saving a few lives along the way – a purpose that is worthy to go after.
About Raja Sekhar Kommu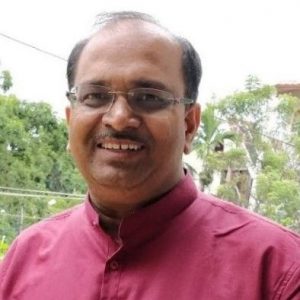 Rajs is a techpreneur and a leader with over 24 years of corporate experience. He has worked for organizations such as American Express, Credit Suisse, Key Bank, and The Hartford Insurance. Rajs built ApnaComplex – a technology platform for Home Owner Associations in India that helped shape the Apartment Management Software Industry in the country. He is part of the founding team of Karkinos Healthcare and leads the technology as the Chief Technology Officer. To know more, connect with Rajs at  https://www.linkedin.com/in/rajskommu/