Benchmarking Operational Strategies to take Cancer Care Closer to Communities
By Arunesh Punetha, Director – Operations, Karkinos Healthcare
Nothing can be more grievous than being affected or seeing somebody close being affected by cancer. That feeling of helplessness is inexplicable. I had a young relative who succumbed to oral cancer. Despite being professionally placed in the healthcare vertical, I had no ability to help him, as the bare truth was that the cancer in him was detected at a stage that was beyond treatment. Palliative care was the only resort.
I would attribute two main reasons for my relative to succumb to cancer. First, there was a complete lack of awareness about the dangers of consuming tobacco and the second was the lack of awareness of periodic cancer screening programs, which could be availed for early diagnosis. Even if the cancer was detected at an early stage, he would not have known how to navigate through healthcare facilities and approach the right care giver at the right stage of his disease.
Lack of knowledge and guidance on the protocols and the steps to appropriate cancer care was clearly absent in his battle against cancer. Loosing him made me realize that accessibility to healthcare services is very essential to one's life, more so for the increasingly aging population.
I, therefore, resolved to enable this accessibility to care. My young relative is just one among millions of people detected with cancer at a late stage and one who was clueless about seeking the right care from the right care giver.
However, in the last 15 years, we have been seeing healthcare services improvise to a great extent. The widespread adoption of Electronic Health Records (EHRs); the growth of telemedicine; and the increasing use of data analytics to improve patient care and population health are all indicating a positive shift towards value-based healthcare models.
We are seeing the patient take center stage and service providers providing more personalized care than ever before. Additionally, there have been several advances in medical technology, such as the development of new drugs and treatments, which has helped make healthcare more purposeful. The COVID-19 pandemic has also had a major impact on the digitally-slacken healthcare industry, compelling it to rapidly undergo digital transformation.
As this massive transformation was taking place, cancer care too started to evolve. Delivering quality cancer care (especially at the comfort of a patient's home or close to home) took prominence. Importance for accurate and timely diagnosis and development of a personalized treatment plan that considers the type and stage of cancer, as well as the patient's overall health and preferences became goals to achieve. Cancer care organizations felt the need to break away from the stereotyped, fragmented, and disassociated care pattern to unifying services and making it more accessible.
Cancer care is undergoing a massive transformation today, thanks to advances in technology and modern medical science. Karkinos Healthcare is determined to channel our efforts in this transformation journey. The operations team works on the commissioning of cancer centers and ensures consistent delivery of clinical and non-clinical services across the centers, capable of patient safety and spinning out excellent outcomes combined with good patient experience. These tasks catalyze the efforts towards the transformation in some way or the other.
However, transformation of the cancer care landscape is not an easy task. Healthcare is essentially a culmination of innumerable processes that contribute to the care of the patient. Hence, there are a lot of inconsistencies in the quality of health care supply. The inconsistencies mostly stem from inadequate resources and lack of trained manpower. The operations team, essentially, is working on newer strategies to fix these inconsistencies.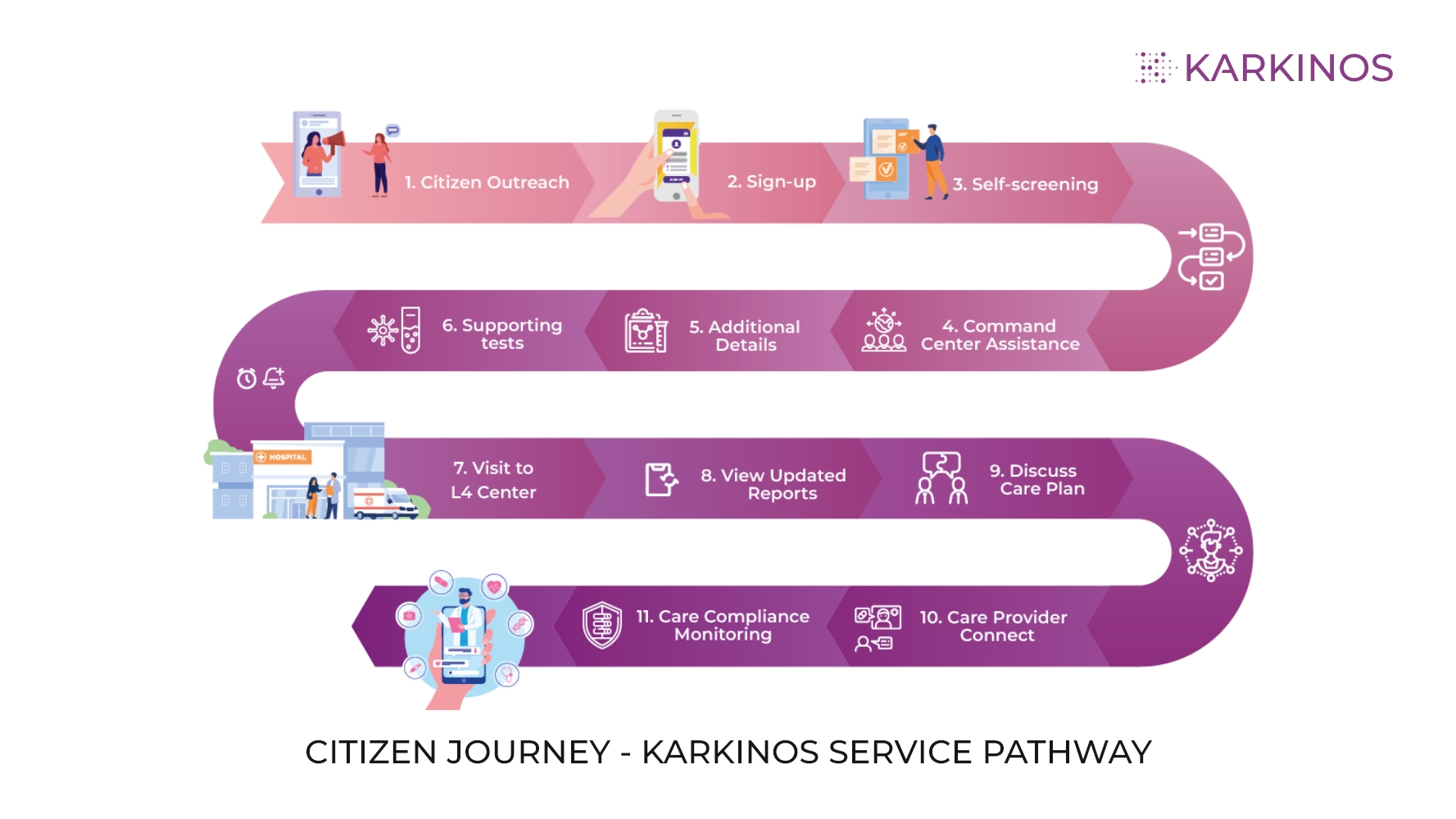 Also, in healthcare, Quality Accreditation requirements include adherence and compliance to standards in physical infrastructure, trained clinical manpower and exposure to defined processes that assure patient safety. Adherence to these standards is not possible across locations, consequentially impacting the quality of healthcare. In order to fix these inconsistencies, streamlining operations in the most strategic manner is the largest requisite in today's modern healthcare services.
Karkinos wants to make quality cancer care accessible to the last mile by creating capacity as well as capability. Some of the key deliverables for us in the Operations Department, which aligns us to the overriding vision and purpose of our company, include:
Upgrade existing oncology centers with services to provide intermediate to advanced care;
Make treatment affordable through initiatives on early detection and innovative insurance schemes. No patient should be left untreated;
Build consistency in clinical execution of oncology care across the network by leveraging Centralized Clinical Expertise for planned decision-making spanning modalities of treatment; and
Patient navigation support from detection to optimal treatment and post-treatment follow up to ensure minimum burden on patient and caregivers in the treatment continuum.
Community cancer care – A priority focus
The primary and the most essential goal in cancer prevention is detecting the disease at a stage where the treatment outcome is the best. With early cancer detection and prevention as a mission, Karkinos Healthcare is set to redefine cancer care by adopting a more community-based approach. Public health studies indicate that by taking care closer to a citizen's/patient's home is the best way to fix health disparities, especially for a country like India. And by taking care closer home, we right away address the gaps in cancer care. Community-based care brings together accessibility and trust, which we at Karkinos believe is the future of oncology care.
Karkinos is working to mitigate cancer health disparities by making quality cancer care accessible for everyone, integrating the currently fragmented array of healthcare facilities, primary, specialty, and hospice services by partnering with a range of existing service providers.
This is to enable access to cancer screening and treatment at a community level, reducing the need for long-distance travel, reducing the financial burden of traveling to distant facilities and improve treatment outcomes. At the community level, the target populations are assessed for risk of developing the common cancers and those who at high-risk are screened. This increases the chances of early detection several notches higher, which improves the treatment outcome and survival rates.
The screened positives and cancer diagnosed patients are navigated for continued care, ensuring that no patient drops out of the care pathway. Be it a citizen or cancer patient, community cancer centers are designed to improve coordination of care, ensuring that every person receives seamless and comprehensive care experiences.
The relevance of Karkinos' Distributed Cancer Care Network model
Data suggests 1 in 10 men and 1 in 8 women in India can expect to develop cancer of any form, in their life span after the age of 35 years. [ref – https://pubmed.ncbi.nlm.nih.gov/21545200/]. We have several published evidence now, over the years, to suggest that early detection can cure cancer.
Over the last five years, there have been significant advancements in the delivery of healthcare. More than the best-in-class equipment it is the consistency in administration of care that enhances the credibility of a healthcare provider. More so, the Government of India is constantly enforcing the importance of digital and electronic records that can be accessed across systems in the interest of patient treatment. Need for healthcare systems that allow for interoperability and which can be scalable with the advances in technology is set to prevail.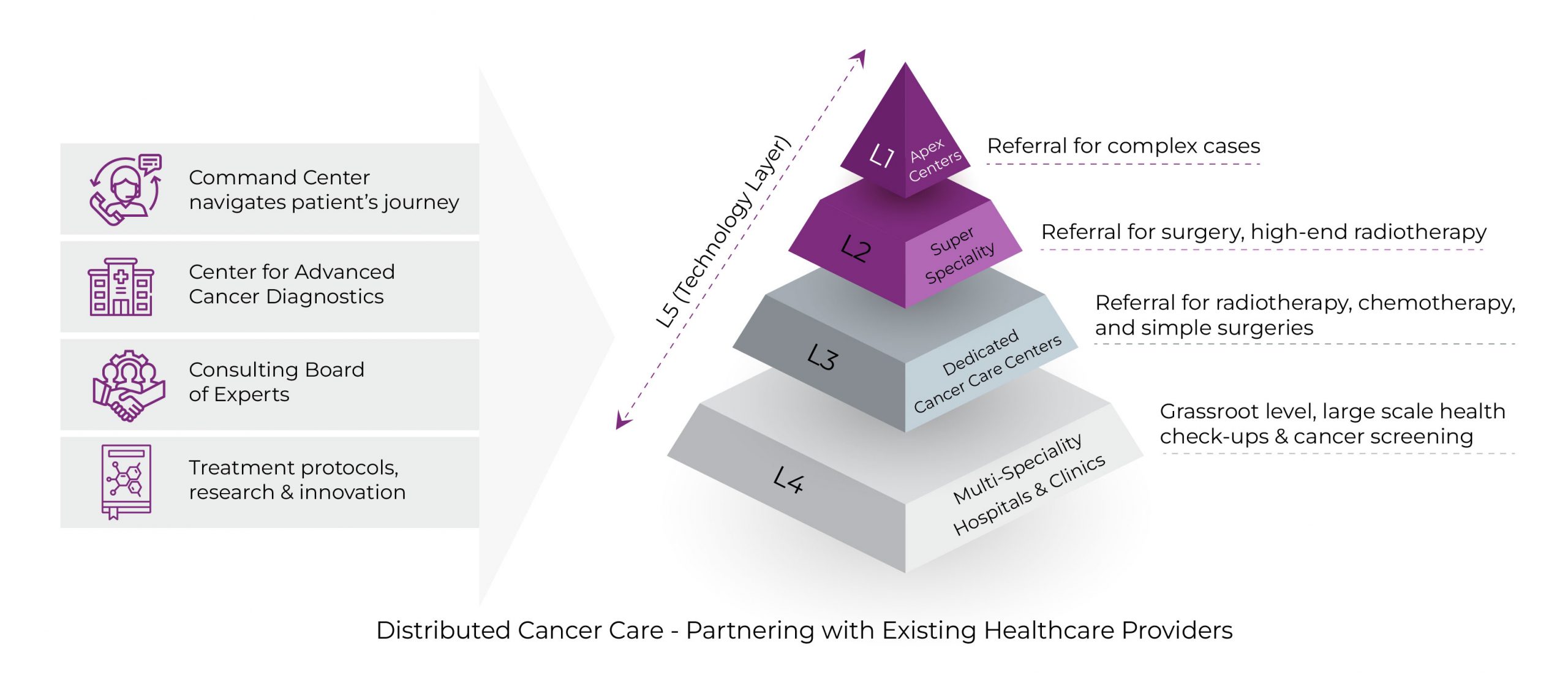 Digital revolution, therefore, is poised to ease all healthcare processes faster than one can imagine. Hence, for the betterment of cancer care services, Karkinos Healthcare intends to capitalize on this digital revolution. The company conceived and designed the novel Distributed Cancer Care Network model to meet the demands of enhanced cancer care. We have evidence today that the Distributed Cancer Care Network is the best suited to identifying patients early for most common types of cancer and with the help of technology, we can now ensure consistent implementation of standards of care that can influence outcomes in cancer treatment. 
The outcome of the DCCN pilot by Karkinos in two district of Kerala was also published in the research paper authored by R Venkataraman and the members of the Karkinos Healthcare team in the Asian Pacific Journal of Cancer Prevention. [ref- https://www.ncbi.nlm.nih.gov/pmc/articles/PMC9810301/]
There has been considerable deliberation over the years on making quality comprehensive cancer care accessible in the low- and middle-income countries. A paper on 'Developing institutions for cancer care in low-income and middle-income countries: from cancer units to comprehensive cancer centres', in the August 2018 edition of the Lancet (www.thelancet.com/oncology Vol 19 August 2018), authored by Bhawna Sirohi, R Venkataraman, and G K Rath and other experts, has had considerable influence in establishing the basic framework of executing a DCCN model.
The Distributed Cancer Care Network (DCCN) serves as a platform to deliver our goals of early detection, access to high end diagnostics, implementation of standards of care, and contribute to data that will help in developing India-specific regimens of care that are based on native demographic genetic profiles. As there are several operational challenges in cancer care services, Karkinos has identified them and is deploying its DCCN to overcome them. The major operational challenges in cancer care services that we have observed include the following:
Ø  Access to care: For the lack of super specialist support for oncology, patients are compelled to travel anywhere between 24-48 hours for diagnosis or treatment. Being a chronic condition, this lack of proximity to access care is a financial as well as an emotional burden on the patient.
Ø  High cost of treatment and reimbursement: While the PMJAY has been a relief for poorer patients suffering from cancer, most of the patients exhaust the limit due to poor prognosis, remissions and end up paying out of pocket. For patients above the poverty line with no access to institutional reimbursement, cancer treatment can drain the family of its lifetime earnings.
Ø  Clinical talent: To provide advanced cancer care, what is required is trained clinicians, nurses, and paramedical staff. These resources are very difficult to procure and serve as the biggest entry barriers for starting cancer centres in the community.
DCCN is designed with the objective to address these existing challenges. There is a defined framework to the execution of the Distributed Cancer Care Network model. Aligned to global standards of Quality in Healthcare provider organizations, we have developed our own standard operating procedures that allow for consistency in processes, look and feel, patient experience expectations, navigation support, and optimal clinical outcomes.
Purpose-led operation strategies
The key pillars of Karkinos' operation strategies will revolve around clinical quality, service quality, consultant/physician engagement and enhancing partner value. Our short-term outlook is to implement the DCCN in our key target geographies like Kerala, North East and West Bengal. Integration of the DCCN backed by technology across each community, which we look forward to making a difference to, will be our overriding short-term priority. Long term vision is to revolutionize the way oncology care is delivered in India. We are committed to detecting 70% of cancer patients early, i.e., stage 1 and stage 2 from the 20-30% detection as we observe today. We are also aiming our standards of care across our partner network to be on par with the internationally accepted standards of care.
We should be able to contribute to the Indian patient genotype that will influence treatment and hopefully lead to advancements in treatment of cancer in Indian and South Asian patients.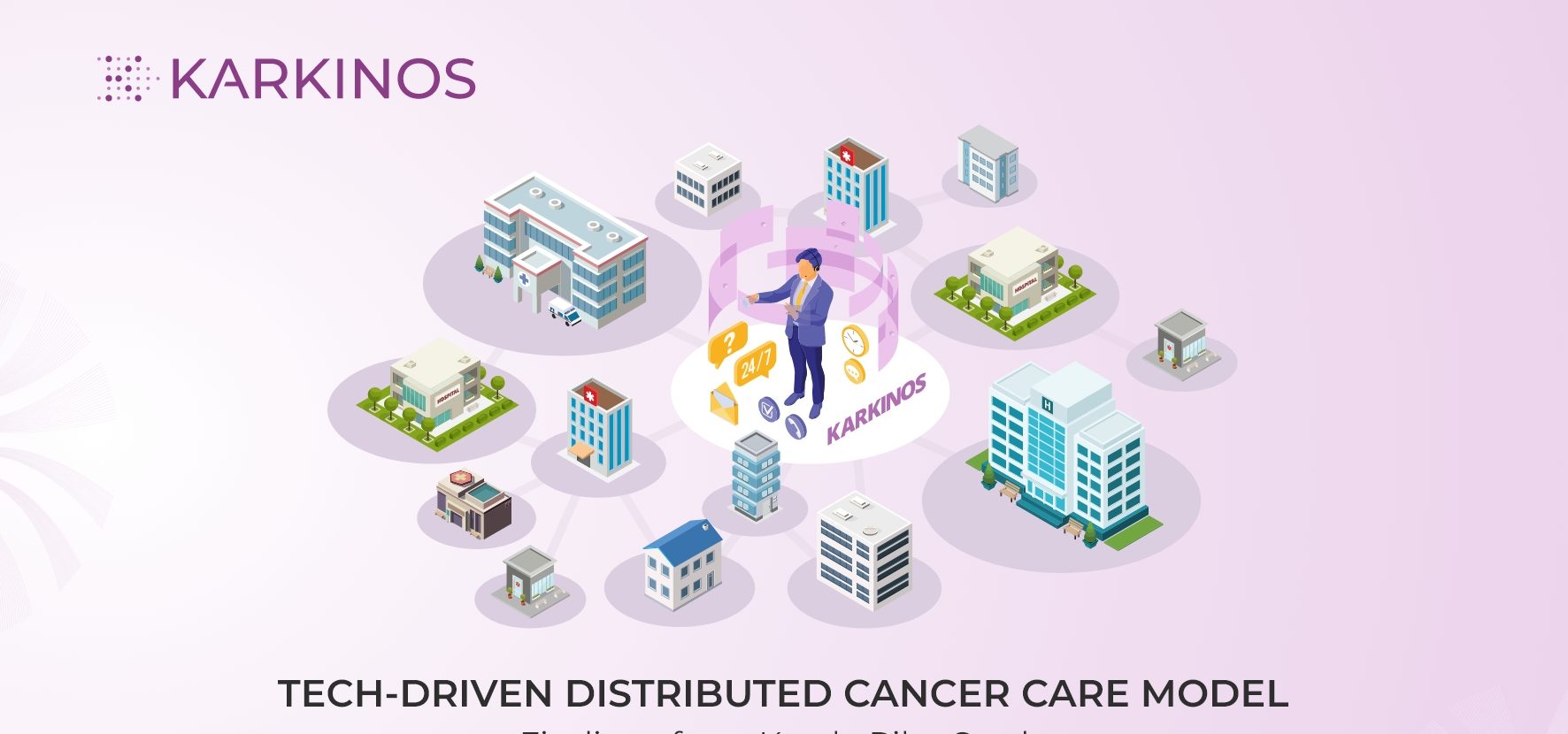 The myth and fear of mortality that is associated with cancer in India should cease to exist. Ultimately, Karkinos Healthcare should be synonymous with good cancer care. The operation strategies laid down by Karkinos Healthcare will completely leverage technologies with the command center offering more personalized health solutions to the patients' remotely.
More than 300,000 people so far have been benefitted from the community early detection programs. Increasingly, patients are benefitting by accessing quality care in the DCCN network. Conventionally, cancer suspects or diagnosed patients rely on cancer centers located at the cities. We have developed capacities for cancer care at partner hospitals in districts where a number of patients are being treated, who otherwise would have sought to travel a long distance to seek for care.
For many patients who have previously gone through multiple consultations, the distributed cancer care model has been instrumental in saving time as well as reducing out-of-pocket expenditure due to closer access to care. In addition, we have a cadre of health staff who are skilled to provide protocol-driven oncology care and further care coordination backed by technology enabling better patient experiences.
The technology enabled DCCN using a managed health care architecture and evidence-based execution approach can reduce delays in diagnosis and treatment, standardize treatment protocols, provide equitable treatment and regular follow-up in India. The model will strengthen care in areas where there is substantial lack of infrastructure and human resources for cancer care. The intelligent use of DCCN, technology, participatory networks and hospital partnerships can provide high quality, standard, evidence-based and equitable cancer care for people across all walks of life.
References
Pramesh, C.S., Badwe, R.A., Bhoo-Pathy, N. et al. Priorities for cancer research in low- and middle-income countries: a global perspective. Nat Med 28, 649–657 (2022). https://doi.org/10.1038/s41591-022-01738-x
Mathur P, Sathishkumar K, Chaturvedi M, Das P, Sudarshan KL, Santhappan S, Nallasamy V, John A, Narasimhan S, Roselind FS; ICMR-NCDIR-NCRP Investigator Group. Cancer Statistics, 2020: Report From National Cancer Registry Programme, India. JCO Glob Oncol. 2020 Jul;6:1063-1075. doi: 10.1200/GO.20.00122. PMID: 32673076; PMCID: PMC7392737.
Allemani C, Matsuda T, Di Carlo V, Harewood R, Matz M, Nikšić M, Bonaventure A, Valkov M, Johnson CJ, Estève J, Ogunbiyi OJ, Azevedo E Silva G, Chen WQ, Eser S, Engholm G, Stiller CA, Monnereau A, Woods RR, Visser O, Lim GH, Aitken J, Weir HK, Coleman MP; CONCORD Working Group. Global surveillance of trends in cancer survival 2000-14 (CONCORD-3): analysis of individual records for 37 513 025 patients diagnosed with one of 18 cancers from 322 population-based registries in 71 countries. Lancet. 2018 Mar 17;391(10125):1023-1075. doi: 10.1016/S0140-6736(17)33326-3. Epub 2018 Jan 31. PMID: 29395269; PMCID: PMC5879496.
Dikshit R, Gupta PC, Ramasundarahettige C, Gajalakshmi V, Aleksandrowicz L, Badwe R, Kumar R, Roy S, Suraweera W, Bray F, Mallath M, Singh PK, Sinha DN, Shet AS, Gelband H, Jha P; Million Death Study Collaborators. Cancer mortality in India: a nationally representative survey. Lancet. 2012 May 12;379(9828):1807-16. doi: 10.1016/S0140-6736(12)60358-4. Epub 2012 Mar 28. Erratum in: Lancet. 2012 May 12;379(9828):1790. PMID: 22460346.
Strategy Overview – Making India a Digital Health Nation Enabling Digital Healthcare for all, National Health Authority, July 2020
Ramachandran V, Pradhan A, Kumar A, Sarvepalli BK, Rao S, Oswal K, Kommu RS, Sharma M, Pathak S, Kunnambath R, Kuriakose MA, Rengaswamy S, Alajlani M, Arvanitis TN. A Distributed Cancer Care Model with a Technology-Driven Hub-and-Spoke and further Spoke Hierarchy: Findings from a Pilot Implementation Programme in Kerala, India. Asian Pac J Cancer Prev. 2022 Sep 1;23(9):3133-3139. doi: 10.31557/APJCP.2022.23.9.3133. PMID: 36172676; PMCID: PMC9810301.
Mathur P, Sathishkumar K, Chaturvedi M, Das P, Sudarshan KL, Santhappan S, Nallasamy V, John A, Narasimhan S, Roselind FS; ICMR-NCDIR-NCRP Investigator Group. Cancer Statistics, 2020: Report From National Cancer Registry Programme, India
ABOUT ARUNESH PUNETHA
Arunesh Punetha is the Director-Operations at Karkinos Healthcare Pvt Ltd. He has over 29 years of experience in healthcare operations in the areas of clinical delivery, operational efficiency, business development and conceptualization, and deployment of innovative offerings to improve healthcare accessibility. Punetha started his career with Sri Sathya Sai Institute of Medical Sciences as part of their technical team and thereafter worked in organizations such as Boston Scientific International, Medtronic India, Baxter India Pvt. Ltd., Apollo Hospitals Enterprise Limited, and Narayana Hrudayalaya Ltd.
He has worked in sales, marketing, and revenue management roles at the senior level. Punetha's most recent position was Regional Director for Narayana Health, where he played a key role in the launch and commissioning of the state-of-the-art exclusive tertiary pediatric hospital at Mumbai. He has led the West Region operations for Narayana Health for over 8 years and has been instrumental in driving Operational Excellence, Clinical Quality, Patient Support programs as well as profitable growth across the hospitals in the region. Punetha completed his MBA specializing in Marketing from Sri Sathya Sai Institute of Higher Learning.