Karkinos Healthcare, Divya Reddy Foundation organize cancer screening program for Cyberabad police women
Around 350 Cyberabad police women were screened for the most common cancers affecting women's health. 
Cyberabad, May 18, 2022: In India, the rate of malignancies affecting women has increased dramatically in recent years. One Indian woman dies of cervical cancer every eight minutes, while breast cancer is the cause of the majority of cancer-related fatalities among Indian women, accounting for one out of every ten new breast cancer diagnoses. However, when cancer is detected early, mortality is dramatically reduced. The key to early cancer detection is to conduct comprehensive community-based screening activities among women in the most susceptible age. 
In the interest of instilling wellness in women and to create awareness about the most common cancers affecting their health, Karkinos Healthcare in association with social organization, Divya Reddy Foundation has organized a special women wellness screening program for the Cyberabad Police Commissionerate. This screening program organized for the Women Police wing is an effort towards early diagnosis of cancer and to drive awareness among the women police force to be cognizant of their health while they protect and serve the citizens of Cyberabad. 
Around 350 Cyberabad police women were screened for the most common women related cancers. Karkinos Healthcare organized Oral Visual Examination to screen for oral cancers, Human Papillomavirus (HPV) test to early detect Cervical Cancer, Clinical Breast Examination for breast cancer detection and Colorectal Cancer screening. Police women, participating in the screening program, had access to scientifically advanced cancer diagnostics including the Gold Standard HPV test.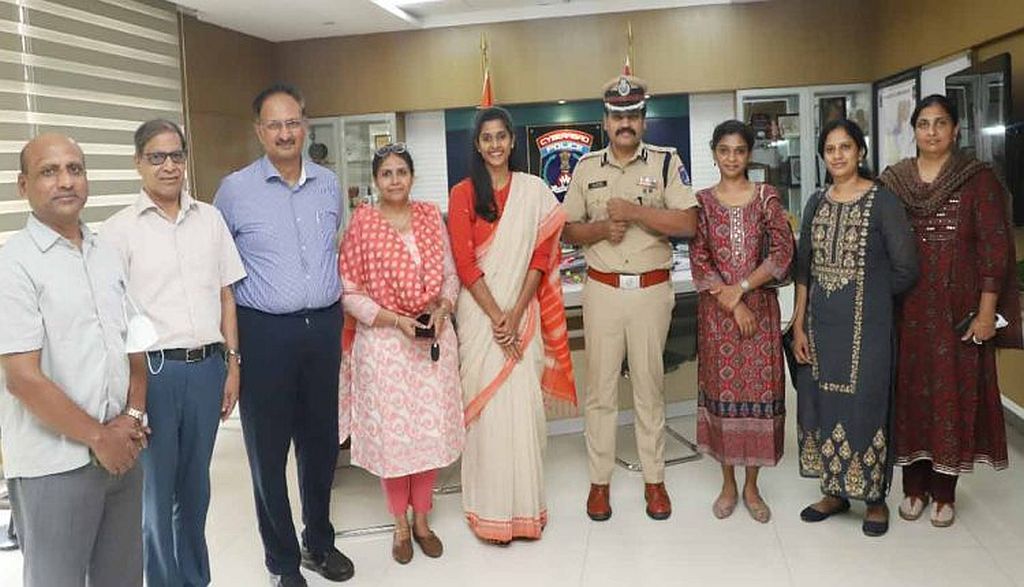 KARKINOS HEALTHCARE Pvt. Ltd, a purpose driven technology-led oncology platform, is focused on designing and delivering bespoke solutions for cancer care. The company is led by a blend of globally acclaimed medical professionals and technologists. The core vision of the company is to create 'cancer centers without walls' with a primary aim of addressing the accessibility or affordability gaps in cancer care. 
Divya Reddy Foundation, a social organization, founded by Divya Reddy creates sustainable businesses for oppressed women. A renowned social activist and entrepreneur, Divya Reddy believes in providing platforms for the vulnerable to make them financially independent and bring dignity to their lives.
Expressing her concern, Divya Reddy said, "Women's health is unfortunately not prioritized in our society even today and it's a constant effort to educate people about it. With such early detection programs, the foundation aims to change this mindset and help save lives." 
Senior Medical Advisor, Karkinos Healthcare, Dr. Narayana Murthy Poduri, says, "Karkinos Healthcare's cancer care initiative helps early detection, treatment, and follow up of cancer cases in both men and women and helps in bringing cancer care to the doorstep. In India, cancer cases are increasing alarmingly due to modified lifestyle habits, urbanization, and increase in environmental pollution. Awareness and early detection of cancer is very important in control of this dreaded disease, as the late stage disease is difficult to control. Our ultimate goal is to create a cancer free society. I appreciate Divya Reddy Foundation's association with Karkinos Healthcare in organizing this cancer prevention program for Cyberabad's women police force, assuring our efforts towards early cancer detection."
Commenting about the women wellness screening program, Sripriya Rao, Co-Founder and CGO, Karkinos Healthcare, said, "Women in India compromise a lot on their own wellness. Cancer is one disease that can be managed and treated better if detected early. To enable early detection and to take cancer screening closer to the women, organizations like Karkinos Healthcare conduct several outreach programs that not only screens women for common cancers but also educates them on how to prevent cancer by explaining the most common risk factors. Women need to be empowered with knowledge and they need to be guided about being proactive about their own health. This screening program organized for the Cyberabad Women Police wing along with Divya Reddy Foundation is an effort towards early diagnosis of cancer and driving awareness among the women police force to be cognizant of their health while they protect and serve the citizens of Cyberabad."
About Karkinos Healthcare Pvt. Ltd.
Karkinos Healthcare is a digital oncology focused, managed health care platform for early detection and diagnosis of common cancers.  The company espouses the use of a distributed cancer care network working with multiple healthcare institutions and professionals in the ecosystem with a view to get cancer care closer to the persons' home by decoupling the delivery from the knowledge systems of care. For more information, visit https://www.karkinos.in/about-us/.
Press & Media coverage: